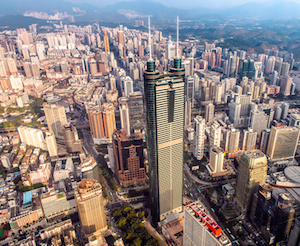 Shenzhen Capital Group, a venture capital firm founded by the local government in Shenzhen, announced last week that the company has launched its debut healthcare fund to raise over RMB2 billion (US$290.58 million).
The new fund, dubbed "Shenzhen Hongtu Healthcare Private Equity Fund," aims to collect RMB800 million (US$116.22 million) in the first round of fundraising. It targets to raise more than RMB2 billion (US$290.58 million) in total, said Shenzhen Capital Group in a statement released on its WeChat official account.
The new fund already secured capital commitments from Shenzhen Capital Group, state-owned Shenzhen Guiding Fund Investment, Shenzhen PingAn Real Estate Investment, Industrial Bank, Chinese private equity firm Before Capital, and Kunpeng Capital, a fund management platform established by the local government for industry transformation and upgrading.
"The fund will focus on the innovation and growth of the healthcare industry in China, with an aim to catch investment opportunities through the systematic selection to disrupt the current healthcare pattern," said Shenzhen Capital Group in the statement. The company added that it will back companies from different healthcare segments at various development phases, and "actively help portfolio companies realize the maximum value."
The fund is the first healthcare-specialized private equity fund launched by Shenzhen Capital Group. It represents one of the major moves made by the state-owned investment firm to implement its "investment strategy," in which one fund will back companies in one specific industry, said Shenzhen Capital Group.
Shenzhen Capital Group was founded in 1999 by the local government in Shenzhen to focus on cultivating national industries, shaping national brands, promoting economic transformation and emerging industries development. The company, with RMB344.39 billion (US$50.03 billion) in assets under management (AUM), has invested in 1,002 projects as of May 2019, covering information technology, semiconductor, advanced manufacturing, consumer goods, logistics, biomedicine, new materials, among others. It has recorded 145 exits through initial public offerings (IPOs).
Most recently, the company backed Chinese pet food supplier Fubei Pet in a RMB300 million (US$43.40 million) series B round in July. In June, the company also led a US$50 million series C+ round in Huang Bao Che Trip (HBC), an online platform that offers Chinese tourists chauffeur and tour guide services worldwide.
In March, Shenzhen Capital Group participated in a US$132 million in a series C round in Innoviz Technologies, an Israeli start-up that develops solid-state lidar sensors and perception software for autonomous vehicles.