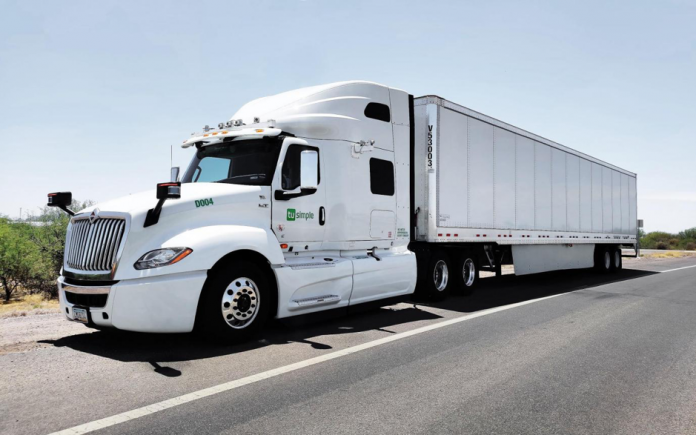 TuSimple, a Chinese self-driving truck developer, announced today that it has reached a strategic partnership with American commercial truck manufacturer Navistar International Corporation to codevelop SAE Level 4 self-driving semi-trucks targeted for production by 2024.
In addition, TuSimple has raised an undisclosed amount of funding from Navistar. The strategic partnership is the result of a technical relationship between the companies for more than two years.
Navistar has 113 years of experience in developing commercial vehicles. TuSimple, which was founded in 2015, has previously received multiple rounds of financing worth approximately US$298 million.
TuSimple claimed that the cooperation with Navistar is the first mass production cooperation between an autonomous driving startup and a truck manufacturer. In the future, customers will be able to purchase the fully autonomous trucks through Navistar's sales channels in the United States, Canada and Mexico.
At present, TuSimple operates a fleet of 40 self-driving trucks in the U.S., shipping freight autonomously for companies such as UPS and McLane Company between Arizona and Texas. TuSimple plans to demonstrate completely driverless operations in 2021.
Just two weeks ago, TuSimple launched the world's first Autonomous Freight Network (AFN) in the United States, and plans to expand autonomous freight service to major transportation routes in the 48 states of the United States by the end of 2024.
"We are honored to be partnered with Navistar. The investment in TuSimple and the partnership with Navistar marks an important milestone for our company. With the combined expertise of Navistar and TuSimple, we have a clear path to commercialize selfdriving Class 8 trucks at scale," said Lu Cheng, president of TuSimple.
In the United States, due to an aging population and long-distance fatigue driving, the shortage of truck drivers has become increasingly serious. According to the latest report from the American Trucking Associations, by the end of 2018, the shortage of American truck drivers reached 60,800. In the next five years, this number will exceed 100,000. By 2028, the shortage of drivers will reach 160,000. To solve this problem, it is definitely not enough to rely on policy measures such as increasing welfare benefits and improving the working environment. Self-driving technology must be a must for major truck manufacturers and transportation companies.
"Autonomous technology is entering our industry and will have a profound impact on our customers' businesses," said Persio Lisboa, president and CEO of Navistar. "Navistar's strategic partnership with TuSimple positions us to be a leader in developing solutions for our customers by leveraging our organizations' collective expertise to integrate our vehicle design and systems integration capabilities with TuSimple's innovative autonomous technology."
Last September, TuSimple secured US$120 million in a series D+ round. And it previously achieved unicorn status with a valuation of US$1 billion after it secured US$95 million in series D round led by Chinese internet magnate Sina Corp in February 2019.