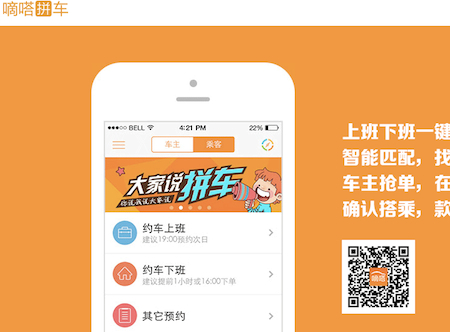 On the evening of October 8th, Dida Chuxing formally submitted a prospectus to the Hong Kong Stock Exchange, intending to be listed on the Hong Kong Stock Exchange. If completed, it would be the first Chinese car hailing company to list publicly.
As an online car-hailing platform with taxis and ride-hailing as its core business, Dida Chuxing was founded in 2014 and has been around for six years.
The main business is to collect service fees from private car owners who provide rides. In the taxi business, while collecting service fees from taxi drivers, it also generates revenue from advertising and other services.
The prospectus shows that Dida will earn RMB310 million yuan in the first half of 2020, compared with RMB187 million yuan in the same period last year.
According to the consulting firm Frost & Sullivan report, in 2019, Dida ranked first in the car pooling market, with a market share of 66.5%, and ranked second in the taxi online booking market.
The data shows that as of August 31, 2020, the total number of registered users of Dida has exceeded 180 million, and the number of registered car owners has exceeded 19 million.
In the field of ride-hailing, as of June 30, 2020, Dida has provided ride-hailing services in 366 cities across the country. There are approximately 19.2 million registered ride-hailing riders and 9.8 million certified ride-hailing riders. The cumulative number of riders 36.7 million.
The prospectus shows that from 2017 to 2019, the gross transaction value (GTV) of Dida's car pooling service was about RMB700 million yuan, RMB1.9 billion yuan and RMB8.5 billion yuan, respectively. The year-on-year growth in 2018 and 2019 was 171.4% and 347.4%. Its market share in 2019 was 66.5%.
In the field of taxis booking, as of June 30, 2020, Dida has provided taxi-hailing services in 86 cities, and has established strategic partnerships with municipal or district-level taxi associations in 17 cities, completed 110 million online taxi bookings.
In terms of operating performance, from 2017 to the first half of 2020, the operating income of Dida was RMB49 million yuan, RMB118 million yuan, RMB581 million yuan and RMB310 million yuan, respectively.
In the first half of 2020, revenue increased by 66% year-on-year. The adjusted net profit was – RMB97 million yuan, – RMB1.068 billion yuan, RMB172 million yuan and RMB151 million yuan respectively.
At present, Didi has successively launched two new independent brands, Qingcai Carpool and Huaxiaozhu, while also trying to gradually resume the ride-hailing business.
The prospectus shows that the funds raised from the listing in Hong Kong will be mainly used to continue to promote the digital transformation of the taxi industry, and to further enhance the capabilities in innovative technologies such as big data, algorithms, and artificial intelligence.
Since its establishment, Dida has attracted investment from many institutions and companies including NIO Capital, IDG, Chongde Investment, BitAuto, Hillhouse, JD.com and Ctrip.com.
In terms of equity structure, the current management team such as Song Zhongjie, CEO of Dida, holds 34.43% of the shares, accounting for 50% of the total voting rights.
After listing, they can control about 73.57% of the voting rights. The aforementioned institutions held 21.60%, 10.23%, 7.15%, 4.95%, 4.14%, 4.14%, and 2.86% respectively before the listing of Dida.