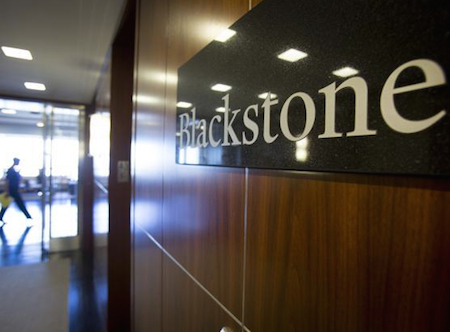 Blackstone is raising at least US$5 billion for second Asian PE fund
US private equity giant Blackstone hopes to more than double the size of its Asian buyout fund, eventually exceeding US$5 billion for its second Asian fund.
As Asia recovers from the epidemic faster than the rest of the world, global fund managers' interest in Asia continues to increase.
Many of the companies that Blackstone currently holds in Asia are in the consumer, healthcare, and technology industries, which have benefited from the shift to online this year, which is one of the reasons for its decision to invest heavily in Asia.
After Ant Group's IPO was suspended, Lufax became a short target
According to an announcement issued by Procensus on November 5, the suspension of Ant Group's IPO has fundamentally changed the market's short-term investment interest in Chinese fintech stocks.
Lufax is the number one short-selling target in this area. Procensus surveyed 84 global investors with a total of US$1.53 trillion in assets under management. As of November 17, their short positions amounted to approximately 34% of Lufax's issued shares.
Tencent invests additional US$150 million in Waterdrop (Shui Di)
In the early morning of November 24, Beijing time, according to Bloomberg News, Tencent Holdings is investing approximately US$150 million in Waterdrop (Shui Di). Waterdrop has raised US$230 million in August. The company is considering an IPO with a target valuation of approximately US$4 billion.
Online live streaming platform must implement real-name identification for anchors
The State Administration of Radio and Television issued a notice on strengthening the management of online live streaming broadcast and e-commerce live broadcasts. Online e-commerce live broadcast platforms must strictly follow the relevant regulations of online audio-visual program service management to carry out audio-visual content services, and shall not produce or broadcast non-commodity-related commentary and other audio-visual programs beyond the scope of e-commerce.
The online live streaming broadcast platform shall implement real-name management for network anchors and those who give "rewards" to anchors.
Alibaba: Management of the platform economy is timely and necessary
At the "Digital Economy and Technology Anti-epidemic" main forum on the 23rd, Zhang Yong, Chairman of the Board of Directors and CEO of Alibaba Group, said in a speech that in order to ensure a more orderly and healthy development of the Internet and the digital economy, relevant state departments is soliciting opinions on policies and regulations in the field of platform economy, which is very timely and necessary.
Alibaba will actively learn and respond to national policies and regulations, and build a healthier platform economy with its own higher requirements.
Xiaomi's new patent is a folding screen with pop-up camera and three rear cameras
Xiaomi has applied for a new folding mobile phone patent. According to the rendering and production pictures of the website, the model uses an inward-folding screen and a secondary screen on the back. The overall structure is similar to the Samsung Galaxy Fold.
Xiaomi's market value exceeds 650 billion Hong Kong dollars
The Xiaomi Group rose nearly 6% during the intraday market, stood at 27 Hong Kong dollars, a record high, and its market value exceeded 650 billion Hong Kong dollars.
TSMC's Nanjing plant will not further expand as planned
The semiconductor giant TSMC's Nanjing plant has reached the original target of 20,000 pieces per month, and the process technology is mainly 12nm and 16nm.
Earlier, there were market news that TSMC decided to start the second phase expansion of the Nanjing plant, with a 28-nanometer process as the main product. TSMC stated that it currently has no specific plans for further expansion of the Nanjing plant.
JD Health's Hong Kong IPO target valuation is US$29 billion
JD Health's planed IPO in Hong Kong is targeting a valuation of US$29 billion, according to media reports.
Beidou Starcom officially released a new generation of 22nm Beidou high-precision positioning chip
Today, Beijing Beidouxingtong Navigation Technology Co., Ltd. released the latest generation of system-wide, full-frequency, centimeter-level high-precision GNSS chip "Hexin Nebulas Ⅳ".
While the chip technology is evolving to 22nm, Beidou Xingtong realized the integration of baseband + radio frequency + high-precision algorithm on a single chip for the first time.
On the same day, Beidou and Meituan formally signed a strategic cooperation agreement. The two parties will establish a special joint laboratory to develop high-precision multi-source fusion positioning algorithms for unmanned delivery and autonomous driving, forming a system-level solution, and promoting the development and application of unmanned delivery vehicles and autonomous driving technologies.
China's digital economy reaches RMB35.8 trillion yuan
A new Blue Book were released on the 23rd at the 2020 World Internet Conference Internet Development Forum. The "China Internet Development Report 2020″ pointed out that in 2019, the scale of China's digital economy reached RMB35.8 trillion yuan, accounting for 36.2% of GDP, and the total scale and growth rate of China's digital economy ranked among the top in the world.

Hong Kong will include secondary listed companies in Southbound Stock Connect
According to media reports, Hong Kong will include secondary listed companies in Southbound Stock Connect.
Huawei Pay to be launched in Malaysia
UnionPay International recently announced that it has reached cooperation with Huawei and the Malaysian branch of Industrial and Commercial Bank of China.
This is the first time that Huawei Pay will be launched in Malaysia. Huawei Pay is a method of mobile QuickPass. Mobile QuickPass uses the NFC function, which can evoke the payment interface at the moment the mobile phone touches the NFC device. Alipay and WeChat Pay can only be paid in two or three steps. Huawei Pay currently supports 7 countries and regions including Russia.