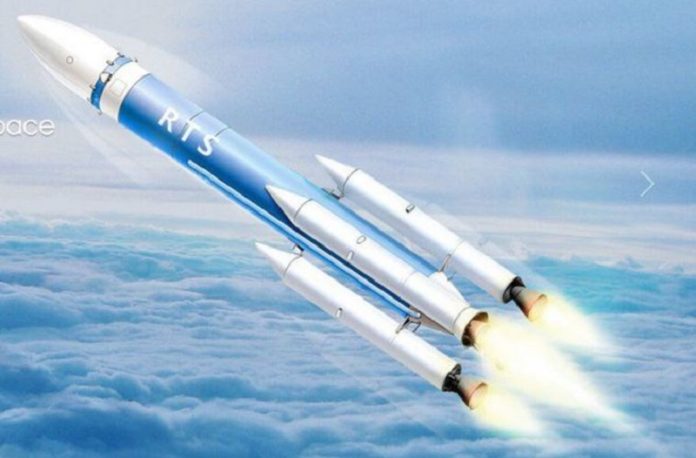 China Pacific Insurance and Sequoia China reached a strategic cooperation in the health industry
China Pacific Insurance and Sequoia Capital China Fund held a health industry strategic cooperation and fund launch ceremony in the Lingang New Area of ​​Shanghai Free Trade Zone.
The two parties will give full play to the synergistic advantages of capital and industry, and are committed to discovering new technologies, new formats and new models in the big health field, and jointly promote the long-term investment layout of the big health industry.
LandSpace completes Zhuque 2 rocket fairing separation test
LandSpace completed the Zhuque 2 launch vehicle fairing separation test. The fairing of the Zhuque-2 launch vehicle is the largest fairing in the domestic private aerospace field.
It is separated by split spin-throwing. The fairing of the Zhuque-2 launch vehicle has a diameter of 3.35 meters and a total length of 8.24 meters.
It is a clamshell structure composed of a non-metallic end cap and a cone section and a column section of the skin stringer structure. The fairing fills the gap in the large-size fairing of private aerospace.
Walvax Biotechnology: The designed annual production capacity of the covid vaccine has been built up to 30 million doses
Walvax Biotechnology stated on the interactive platform that the company's listed covid vaccines include two products, a 13-valent conjugate vaccine and a 23-valent polysaccharide vaccine.
The currently established covid vaccine production line has a designed annual production capacity of 30 million doses.

The first batch of driverless taxis opened in Dalian, Liaoning
Recently, five driverless taxis officially opened to residents for free trial rides in Jinpu New District, Dalian, Liaoning. Han Xiaomei, a staff member of the Development and Reform Bureau of Dalian Jinpu New Area, said that the next step will be to promote the application of driverless scenarios in the Xiaoyao Bay area and the Jinshitan National Tourism Resort.
It will also combine regional characteristics in the Golden State Industrial Park and the New Japan Industrial Complex to create autonomous driving application scenarios with regional characteristics to achieve full area coverage of unmanned driving scenarios.

Alipay: Appointment service for nucleic acid testing has covered more than 150 cities
Alipay said that currently Alipay has booked nucleic acid testing or on-site sampling institutions covering more than 150 cities and involved 466 hospitals and institutions. In addition, it also provides "test first, pay later" service and group test appointment service.

Tesla: Shanghai GigaFactory plans to increase production capacity
Tesla China said that the production capacity of Tesla's Shanghai Giga Factory has reached 250,000 vehicles per year and plans to increase to 450,000 vehicles per year.
The market has very strong demand for Model 3 and Model Y. Model Y has been put into production at the end of 2020 and will gradually reach its maximum production capacity
SF Affiliated Company Publishes "Smart Helmet" Appearance Patent
SF Technology published a "smart helmet" appearance patent, the publication number is CN306294216S, and the application date is June 2020. The patent abstract shows that the purpose of this design product is a smart wearable device used in a logistics system.

TSMC: Speeding up automotive chip production as its top priority
TSMC said today that the company is making it its top priority to respond to the chip supply challenges affecting the automotive industry and to "accelerate" the production of these products through its fab.
The company said in a statement: "TSMC is currently accelerating the production of these key automotive products through our fab. While our production capacity is being fully utilized to meet the needs of various fields, TSMC is reconfiguring our production capacity to support the global automotive industry."
The first domestic hydrogen fuel cell hybrid locomotive rolled off the assembly line
Recently, the first domestically-made hydrogen fuel cell hybrid locomotive rolled off the production line of CRRC Datong Electric Locomotive Co., Ltd., marking a key breakthrough in China's hydrogen energy utilization technology.
The locomotive is designed to have a speed of 80 kilometers per hour and a continuous power of 700 kilowatts. It can run continuously for 24.5 hours on a single machine with a full hydrogen load. The maximum traction load on a straight track exceeds 5000 tons.
CICC: The global machine vision industry is estimated to be worth US$9.2 billion in 2025
CICC pointed out that the machine vision industry has wide applications, large space and high barriers. Machine vision can be applied to all aspects of intelligent manufacturing. It estimates that the global machine vision industry will be worth US$9.2 billion in 2025.
According to Cognex, the size of the global machine vision industry in 2018 was US$4.2 billion, and is expected to achieve a compound growth rate of 12% in the long term. Based on this calculation, the global machine vision industry is expected to reach US$9.2 billion by 2025.

Baidu gets permission to test self-driving cars in California
According to reports, the California State Department of Motor Vehicles announced on Wednesday that Baidu has obtained the state's permit and will begin testing unmanned autonomous vehicles in the state.
Baidu is the sixth company to obtain a permit for testing without a safety officer in California. The permit allows Baidu to conduct three fully autonomous vehicles on designated streets in Sunnyvale, Santa Clara County. test.