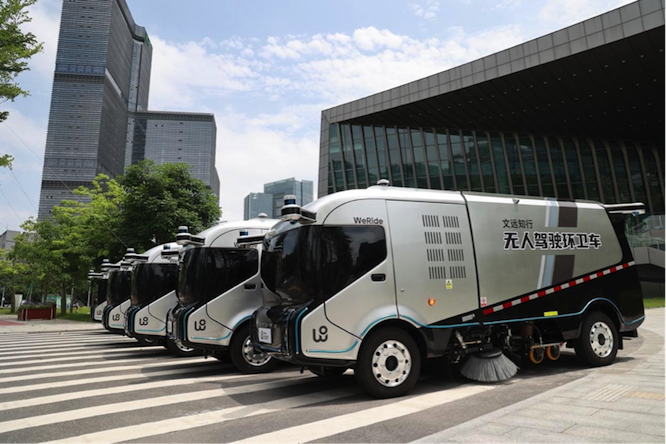 Chinese autonomous driving companies are racing toward achieving mass commercialization, with Baidu, WeRide and Pony.ai announcing new steps in recent days.
Baidu and Pony.ai has received permits in China authorizing the companies to provide driverless ride-hailing services to the public on open roads in Beijing. This regulatory approval indicates the government's openness to allowing fully driverless cars on open roads.
Baidu will have ten autonomous vehicles without drivers behind the steering wheel and offer rides to passengers in a designated area of 60 square kilometers in Beijing, Baidu said in an announcement.
These licensed cars will join an existing fleet provided by Apollo Go, Baidu's autonomous ride-hailing service, in the capital city of China. Starting April 28, 2022, users will be able to hail a driverless ride using the Apollo Go mobile app in daytime from 10:00 to 16:00.
Pony.ai said that it had won the bid for the 2022 taxi permit index in Nansha District, Guangzhou, and was approved to deploy 100 autonomous vehicles to provide taxi services in the area.
Prior to this, Pony.ai and Sinotrans established a joint venture, which is expected to deploy more than 100 intelligent driving heavy-duty trucks in its initial phase.
WeRide, headquartered in Guangzhou, launched Robosweeper, a mass-produced and purpose-built self-driving sweeper vehicle in China. A fleet of more than 50 Robosweeper vehicles will operate in Nansha District, Guangzhou.
Robosweeper is designed and produced for city-level street cleaning services under a strategic collaboration between WeRide and Yutong Group. It features a cockpit-free design without a steering wheel, accelerator or brake pedals. It is WeRide's second product for mass production self-driving vehicles, after the launch of Mini Robobus.
Additionally, DeepRoute, another Chinese autonomous driving company, has deployed a fleet of 30 autonomous driving pre-installation solutions and put them into the operation of a Robotaxi fleet.
The autonomous driving solution is priced at US$10,000. At present, the startup has begun technical cooperation with a number of OEMs. It expects that by 2024, vehicles equipped with its L4 autonomous driving solution will start mass production and enter the market on a large scale.