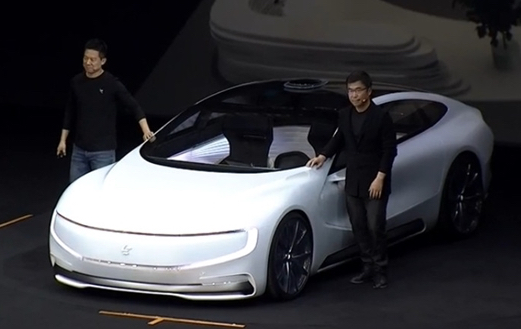 LeEco's smart car business has taken a solid step forward, as the company and the Zhejiang provincial government jointly announced plans to build a car plant and an automobile tourism destination with an expected RMB20 billion (US$3 billion) total investment.
The project, to be located in a mountainous area named Moganshan in Zhejiang in eastern China, will cover a land area of 286 hectares with what LeEco claims to be China's first production line for D-class vehicles with independent intellectual property rights.
The project also includes the construction of an auto-themed tourism town, where visitors can experience riding on self-driving electric vehicles, the only transportation allowed in the planned town.
Construction of the car manufacturing plant, with capacity to produce 400,000 vesicles annually, will begin at the end of this year or the beginning of 2017, according to Chinese media reports.
But as many of LeEco's projects, the Zhejiang automobile project faces some tough challenges.
Just ten days ago, China's Ministry of Industry and Information Technology announced a proposed new regulation to raise the bar for the new energy car sector, signaling that it may be more difficult for new projects to get approved.
Regulatory approval also takes time. It might cost LeEco three to five years to produce 15 sample vehicles to obtain production qualification, according to estimates made by industry executives.
In addition, the Moganshan High-Tech Industrial Development Zone is not located near any auto parts supply chain, especially for the D-class vehicles LeEco is planning to make there. D-class vehicles include the S class from Mercedes-Benz and BMW's 7 series.
Interestingly, another Chinese car maker Geely also announced plans recently to build a Volvo car tourism town in Zhejiang's Taizhou county.
The moves follow an announcement made by a few Chinese ministries in July to encourage cities and provinces to build tourism towns themed to showcase advanced concepts, including modern manufacturing and technology.