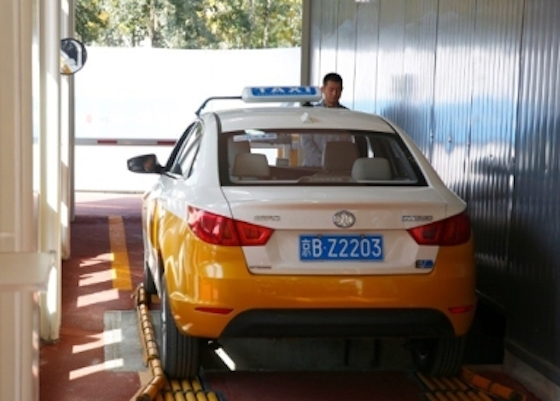 A new energy subsidiary of Beijing Automotive Group (BAIC Group) has delivered the first few battery-switch stations for EV taxi in Beijing, as China continues to fight against severe pollution in the country.
The stations form the largest network in the world for electric taxi battery charging and swapping, BAIC BJEV said in a statement.
The first batch of ten battery-swap stations has commenced operation at the end of October and will offer services across eight urban districts in Beijing.
"In 2016, 50 EV battery charging and switch stations will be put into operation in Beijing and are expected to address the battery-swap needs of at least 6,000 EV taxis," said Xu Heyi, chairman of BAIC Group.
Taxi drivers will be able to remove the battery once it starts running out of power and replace it with a fully-charged one at the nearest station.
The station locations have been planned so that drivers will not need to travel more than five kilometers for swapping battery.
By the end of 2017, Beijing will be home to 200 EV battery charging and swapping stations, which will meet the requirements of 30,000 EVs on the road.
BAIC BJEV is replacing 50,000 existing taxis with EVs equipped switchable batteries in preparation for the 2022 Olympic Winter Games in Beijing.
The company also plans to expand its battery swapping business in the car-sharing, online car-hailing and even the private vehicle markets.
Since 2014, BAIC BJEV has been exploring ways to efficiently promote the adoption of battery switching technology and service.