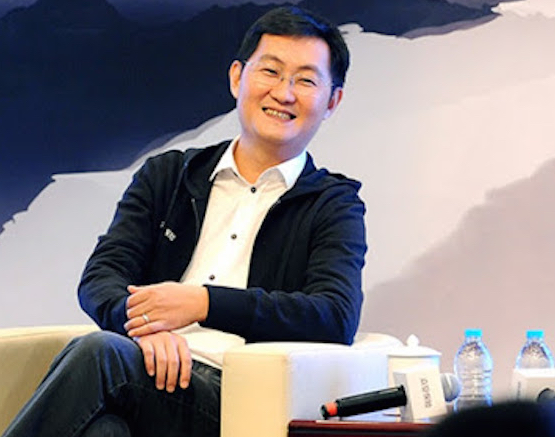 Four of China's largest Internet companies, including Alibaba, Tencent, Baidu and JD.com, are set to record a lower amount of investment in the U.S. this year, after a record year in 2015, according to CB Insights data.
The companies, as well as Alibaba's financial services affiliate Ant Financial, struck 14 deals with US$1.8 billion in total deal value year-to-date in 2016, compared to 34 deals with US$3.8 billion in aggregate transaction volume last year.
From 2012 to 2015, the annual deal total by the four in the U.S. rose nearly five times. They participated in more than 90 deals with over US$7.7 billion aggregate deal value during the four-year period, before declining this year.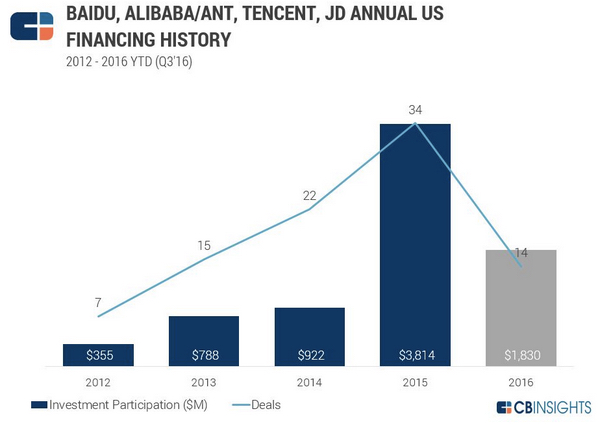 In terms of geography, California made up 79% of the total U.S.-based deals by the "BATJ", which have been diversifying gradually.
Between 2012 and 2014, U.S. investments by BATJ spanned just five states. During the third quarter 2016, the four have invested in ten states, including Texas, Utah, and Florida where Alibaba invested in Magic Leap, Fanatics, and eApeiron. Ant Financial acquired biometric security tech firm EyeVerify, headquartered in Missouri, in September.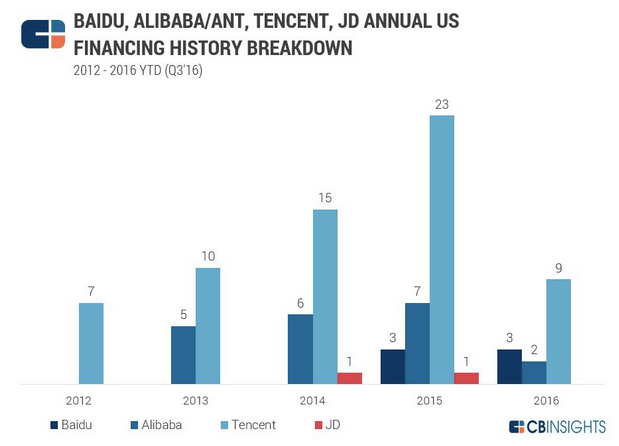 The BATJ tend to invest alone, instead of co-investing, perhaps due to their different strategic objectives and competitive nature.
The only co-investments include ZestFinance, which partnered with JD.com to bring its data-driven underwriting service to China in June 2015, and then took an investment from Baidu in July 2016 to develop search-powered credit scoring in China. Lyft and Snap Inc. both count rivals Alibaba and Tencent as their investors.
The graft below highlights Tencent's prolific investment in the U.S. since 2012, which include a number of gaming startups including Discord, Pocket Gems, and Playdots, and more recently, in health with deals including Scanadu, Circle Medical, and Clinicloud.