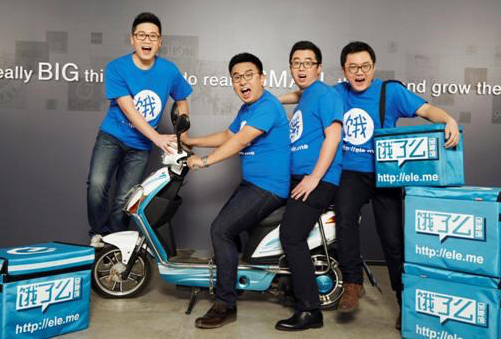 Ele.me, one of the largest food ordering mobile app operators in China, faces an uncertain future as the company has reportedly missed key performance metrics embedded in an agreement when Alibaba Group Holding Ltd. and its affiliate Ant Financial invested US$1.25 billion in the company earlier this year.
The company may have failed reaching certain performance targets including the timing of an initial public offering, market share and revenues, according to Chinese media reports.
As per a valuation adjustment mechanism clause, which gives investors the right to adjust the valuation when certain conditions are satisfied, Alibaba and Ant Financial could take over Ele.me, a desirable outcome for Alibaba as it has been trying to build up its own local on-demand services platform.
Ele.me did not immediately respond to an inquiry to confirm the news. The company told Chinese media organizations that it was not aware of the issue.
Ele.me founder Zhang Xuhao is reportedly in the process of securing external funding, in order to keep the company independent and hopefully out-compete key rival Meituan.
If Ele.me fails to reach a deal, Alibaba, which is already Ele.me's biggest shareholder with a 27.7% stake, may be able to take over control of the company.
The Internet giant is likely to integrate Ele.me with its own local on-demand service unit, Koubei. Alibaba will also be able to leverage its logistics platform Cainiao to the combined Ele.me-Koubei operation.
Alibaba's Jack Ma has been keen on establishing a leading position in local on-demand services. Alibaba executive vice chairman Joseph Tsai, who joined Ele.me's board earlier this year as part of Alibaba's investment in Ele.me, was named chairman of Koubei earlier this year.
Founded in 2009, Ele.me previously raised venture funding from CITIC Private Equity Funds Management Co., Beijing Hualian Department Store Co., Ltd., CMC Capital, Gopher Assets, Tencent Holdings Limited, JD.com Inc., Sequoia Capital, GSR Ventures, Matrix Partners China, and Dianping.com.