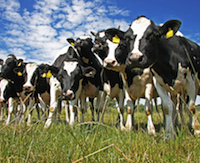 China Mengniu Dairy Co., Ltd. has offered to buy out dairy farming company China Modern Dairy Holdings Ltd. for US$826 million to secure a stable supply of raw milk for the Chinese dairy products manufacturing giant.
The proposed deal also marks a successful exit for private equity giants KKR and Chinese investment firm CDH Investments, which invested in Modern Dairy early and helped the company expand to become the largest dairy farming company in terms of herd size in China.
Hohhot, Inner Mongolia-headquarted China Mengniu became the largest shareholder of Modern Dairy in 2013 after buying a 27% stake from KKR & Co. and CDH Investments in 2013.
The Chinese dairy product company increased its stakes in Modern Dairy to 39.9% from 25.4% after paying HK$1.87 billion (US$241 million) for more shares from CDH and KKR yesterday, according to a securities filing.
China Mengniu then said that it would make offer to acquire the remaining shares of Modern Dairy at HK$1.94 apiece. Any shareholder with a 30% stake or more in a company is obligated to make the offer, according to Hong Kong corporate rules. The price is the same with the transaction yesterday and represents a 7% premium to their Wednesday close.
China Mengniu expects to further increase its stake in Modern Dairy to 91% by buying shares worth HK$6.4 billion (US$826 million).
Following the completion of the deal, Modern Dairy will remain listed in Hong Kong because some shareholders, including company chief Lina Gao, would not take the offer to sell their shares.
In 2013, KKR and CDH teamed up with Modern Dairy to establish a joint venture to built two large dairy farms in Shandong province, after the pair sold down their stakes in the company. Two years later, they exchanged their stakes in the joint venture for a 9% stake in Modern Dairy.
China Mengniu said it would fund the purchase through internal resources and external debt facilities.
The deal will enhance the business collaboration and will ensure the continuity of high quality and safe raw milk supply to Mengniu Group, the filing said.
Since 2013, Modern Dairy has been the largest raw milk supplier to Mengniu, operating dozens of large-scale dairy farms across China with a geographic footprint closely aligned with Mengniu's processing facilities.