Last year, China-based investors participated in 36 deals totaling US$1.2 billion in disclosed funding in the virtual reality (VR) and augmented reality (AR) field, which translates to 71% growth in deals and a 277% boom in aggregated funding value. In possibly the clearest demonstration of Chinese interest in the fast-growing sector, 21% of all recorded AR/VR deals last year included a China-based investor, according to data from CB Insights.
Some of the big deals include Alibaba's participation in Magic Leap's US$794 million series C round. CMC Holdings, an investment platform affiliated with China Media Capital, Chinese Internet firm NetEase, CITIC GuoAn Group and others injected US$80 million in NextVR Inc., a U.S. VR start-up providing platforms for on-demand live VR broadcasts.
STX Entertainment, a Hollywood film studio and distributor with backings from China's Tencent Holdings Ltd., acquired U.S. VR content producer, Surreal. China's O-film Tech Co. and Vanfund Urban Investment particiapted in a US$58 million round in VR headset maker Osterhout.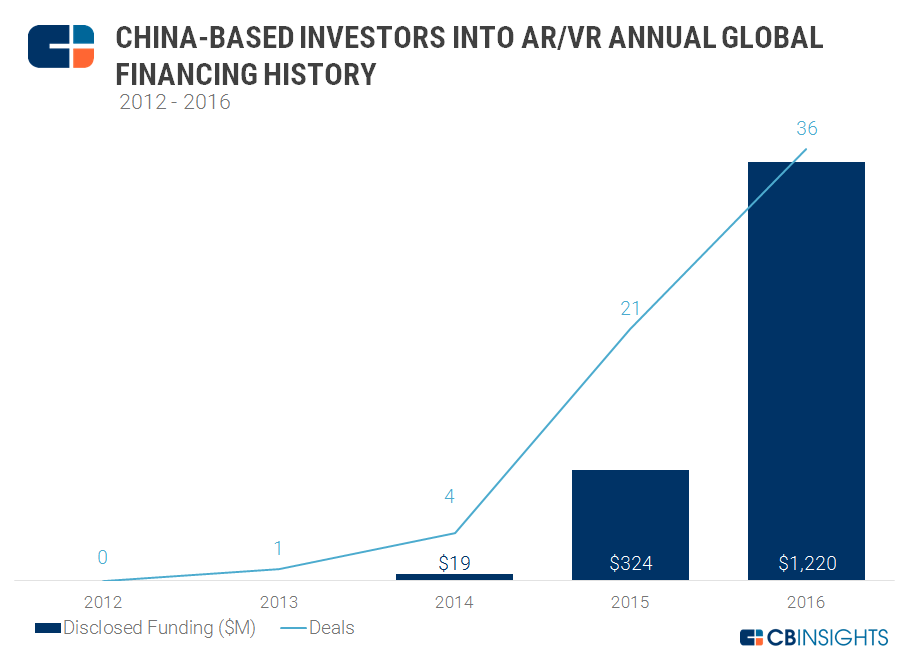 Chinese investors' participation in AR/VR deals hit an uptick in mid-2015, and leveled off in early 2016. Deal level are now back to an all-time high with 10 deals in the fourth quarter of 2016, according to data from CB Insights.
Deals from the last quarter include Lumus' US$30 million series C round from China's HTC and others, Baobab Studios' $25 million series B financing from Horizons Ventures, and Infinity AR's US$18M round led by Alibaba as a strategic partner.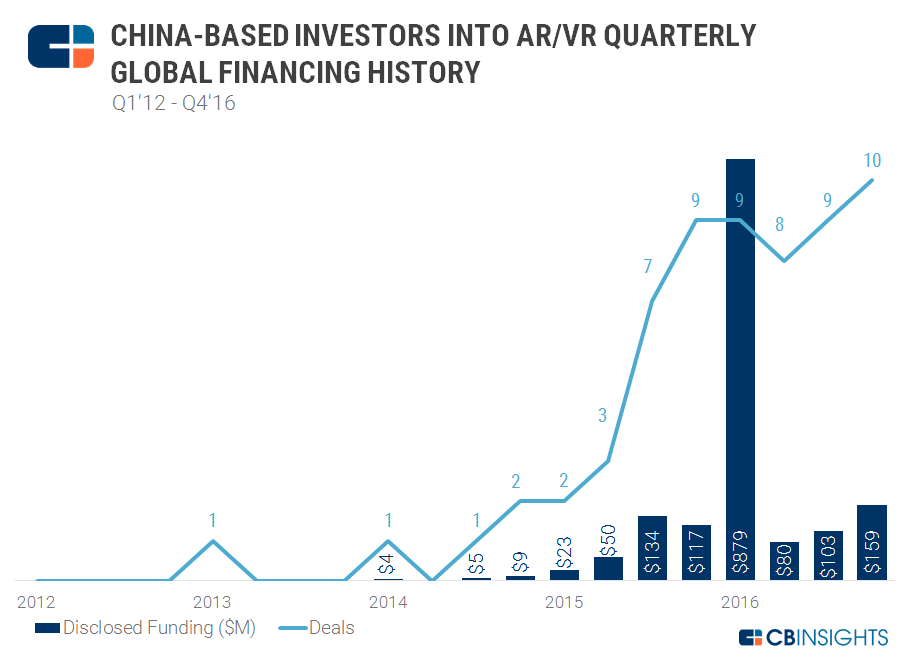 Chinese investors and governments are scaling up efforts to take a lead in the VR/AR sector. Alibaba launched its own VR research lab last year to nurture both VR content production and hardware. China's Ministry of Industry and Information Technology teamed up with companies and research institutions to establish a VR industry alliance to enhance industry advancement last September.
Worldwide revenues for the VR/AR market will grow from US$5.2 billion in 2016 to more than US$162 billion in 2020, the International Data Corporation (IDC) estimates.