U.S. retail giant Wal-Mart Stores, Inc. has increased its stake in Chinese e-commerce firm JD.com Inc. to 12.1% as of the end of 2016, up from 10.8% last October, deepening its partnership with China's second largest online shopping platform behind Aliababa, according to a securities filing.
In a six-month period, Walmart has more than doubled its shareholding in JD.com from 5.9% last June, when the two companies struck a wide-ranging partnership. In that agreement, Walmart sold its fully owned Chinese e-commerce player Yihaodian to JD.com Inc. in exchange for receiving a 5% stake in JD.com worth roughly US$1.5 billion.
Walmart is betting on JD.com as a major e-commerce channel for its future in China, where consumers are projected to spend up to US$6.4 trillion a year by 2025.
As part of the strategic partnership, JD.com will host Walmart shopping malls on its online platform. Walmart is also planning to terminate its own China e-commerce mobile app to instead let JD.com host its global flagship store in China. JD.com is also the exclusive e-commerce partner for Walmart's Sam's Club in China, and will serve as the online shopping channel for over 20 Walmart stores located in Guangzhou and Shenzhen initially, a plan that is expected to expand to include other stores across China.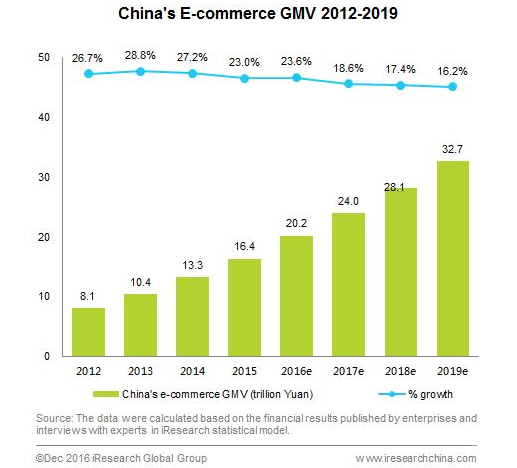 As JD.com utilizes a dual-class share structure, JD.com's founder Liu Qiangdong still has tight control of the company with a 80.9% voting rights and a shareholding of 18.2%. Despite Walmart's rapid stake increases, the U.S. retail giant is not expected to gain control. Walmart currently has observers on JD.com's board, but do not have the right to initiate proposals or vote on corporate decisions.
When the two parties announced a partnership last June, Walmart said that it would continue to invest in JD.com.
The partnership between JD.com and Walmart is wide-ranging. Last October, Walmart also made a US$50 million strategic investment in New Dada, formerly known as Dada and controlled by JD.com Inc., to expand cooperation on logistics and delivery.
Walmart has been investing in e-commerce companies globally and in its home turf. It announced plans to acquire U.S. e-commerce firm Jet.com last August for US$3.3 billion. It was also reportedly in discussions with Flipkart, India's largest e-commerce company, about a capital injection.