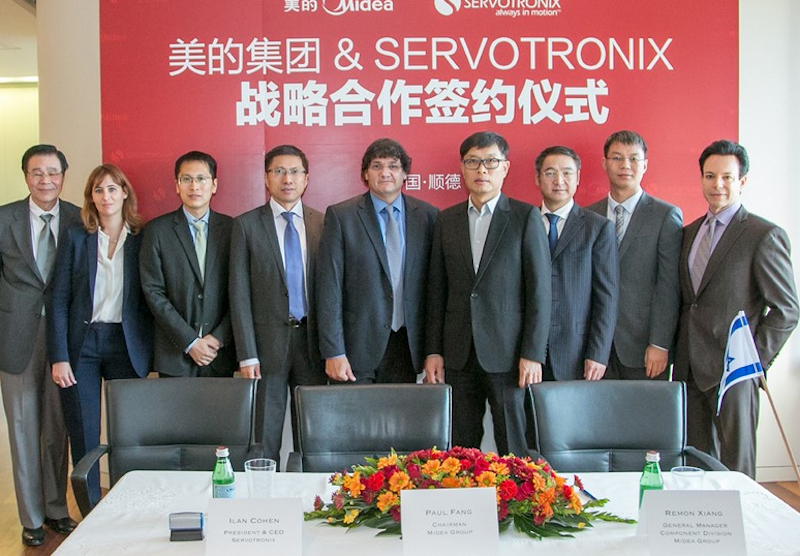 Chinese consumer appliances maker Midea Group Co., Ltd. has acquired control of Israeli motion control company Servotronix Motion Control Ltd. for an enterprise value of US$170 million, according to media reports.
The deal follows the completion of Midea's acquisition of German industrial robot manufacturer Kuka Group for over US$5 billion last month, marking another milestone in the Chinese appliances maker's bid to become a robotics and automation high-end industrial manufacturer.
"This strategic alliance represents another milestone of Midea's expansion in industrial automation and intelligent manufacturing," said Paul Fang, chairman and CEO of Midea, in a statement. "We believe that Servotronix' technological leadership and innovation in motion control will generate significant synergies with Midea in terms of value chain integration and new market development."
At the same time, the two parities established a strategic partnership to expand the development and sales of advanced motion control and automation systems globally and in China. This is the first collaboration of this type for Midea in Israel.
"This alliance will provide Servotronix with significant leverage for our global operations and put Servotronix in a leadership position in the field of robotics, control and automation, with China being a major market in this field," said Dr. Ilan Cohen, president, CEO and founder of Servotronix.
Servotronix, founded in 1987 by Dr. Cohen, develops and manufactures comprehensive and high performance motion control solutions, ranging from advanced encoders, servo drives to multi-axis motion controllers, for a wide variety of industries including industrial robots, electronics assembly, semiconductor, machine tools and medical equipment.
Servotronix will continue to operate from its headquarters in Petah Tikva, Israel, and coordinate its global activity, including marketing, sales and product development.
Established in 1968, Shenzhen-listed Midea manufacturers heating, ventilation and air-conditioning systems, robotics and industrial automation systems. The company generated over US$17 billion revenue in the first nine months of 2016, and has identified robotics and automation as an important growth market.