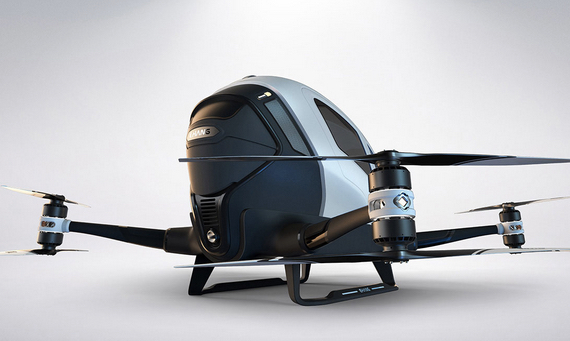 Chinese drone maker Ehang Technology Co., Ltd., backed by GGV Capital and other venture investors, plans to launch a passenger-carrying drone product in Dubai this summer, a senior Dubai official announced during a conference yesterday.
The Ehang 184 will be operating with regular schedules as a drone taxi in the city in a trial program, said Mattar Al Tayer, chairman of Dubai's Road and Transport Authority.
Ehang 184 can carry one passenger weighing up to 117 kilograms along with a small suitcase. Passengers can simply put in their destination on a touch-screen pad in front of their seat, and the drone will fly there automatically with remote monitor located on the ground. The drone's battery allows a half-hour flying time and a range of up to 50 kilometers.
Ehang was founded in 2014 and has operations in California, Düsseldorf, Beijing and Shanghai. It has three products include Ghostdrone 2.0, a drone fully controlled by smartphone, Ehang Falcon, a commercial drone, and Ehang 184. Last year, it reached a 15-year joint development agreement with U.S.-based Lung Biotechnology, which plans to purchase 1,000 Ehang 184 drones to deliver artificial organs.
The company previously raised US$10 million series A funding led by GGV Capital in 2015. Later that year, it raised US$42 million series B round led by GP Capital with participation of GGV Capital, Zhen Fund, Lebox Capital and OFC.
Mattar Al Tayer said earlier that Dubai is building a smart city. In 2009, Dubai launched a driverless metro rail network, and had a month-long trial of a driverless car EZ10, made by French company EasyMile in September last year.
Sheikh Mohammed bin Rashid Al Maktoum, vice president and prime minister of the United Arab Emirates, announced in April 2016 that he wanted 25% of all passenger journeys in Dubai to be carried out in autonomous vehicles by 2030.