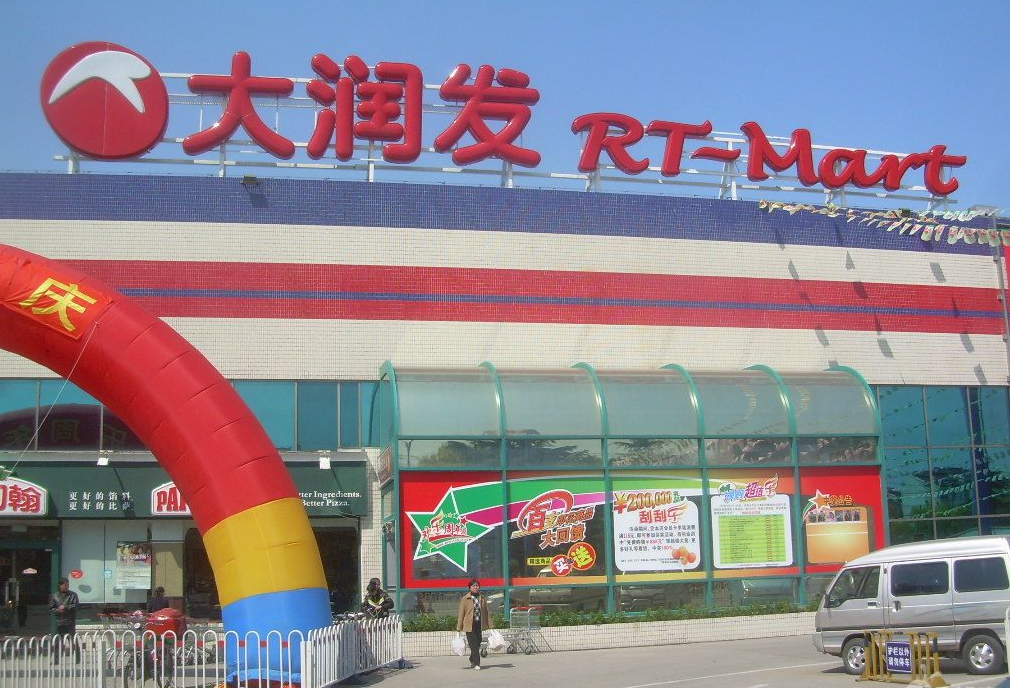 Alibaba Group Holding Ltd., Suning Commerce Group and Tencent Holdings Ltd. are rumored to be interested in acquiring RT-Mart International Ltd., a Taipei-headquartered hypermarket chain that operates 409 hypermarket complexes across 28 provinces in China via a joint venture.
Hong Kong-listed Sun Art Retail Group Ltd., a joint venture established in 2001 by French retail group Auchan and RT-Mart to operate hypermarket chains in mainland China, submitted a trading halt on Friday after its shares soared 6.5% in the morning session on deal prospects reported by local media.
In response, Alibaba quickly denied that it was involved in such a deal, sending Sun Art's shares down to a one-month low during afternoon trading on Friday. The shares opened lower today in local trading.
Sun Art said in a disclosure filing that it "is currently in very early stage of discussions with certain third parties, including Suning, in respect of potential cooperation, though no substantive discussions have taken place at this stage as to the structure or terms of any such cooperation."
These third parties do not currently include Alibaba or Tencent, but the possibility of entering into cooperation with any significant online platforms cannot be ruled out, it said in the filing. The company warned that these preliminary discussions are still ongoing and it cannot provide any assurance that any such transaction will proceed.
Tencent, Suning and Sun Art did not immediately respond to China Money Network inquires to confirm or deny their interests in a potential acquisition.
In 2015, Alibaba said it would invest US$4.6 billion in traditional retailer Suning Commerce Group Co., Ltd., as the Chinese e-commerce giant seeks to combine online shopping with offline retail to pursue a so-called "New Retail" strategy that aims to create a seamless shopping experience for consumers utilizing the best elements of online and offline channels.
Suning had over 2,000 stores at the end of 2016, primarily smaller outlets selling electronic goods. The company said it plans to open an additional 1,000 outlets across the country, including in rural areas. A combination with Sun Art would significantly expand Suning's footprint, both geographically and in terms of retail categories.
RT-MART was established in 1996. It established a joint venture, Sun Art Retail Group, with France's Auchan in 2001 to develop hypermarkets, a superstore combining a supermarket and a department store, in mainland China.
In 2004, Sun Art opened 50 hypermarket complexes in China, and grew that number to 184 by 2010. In 2011, Sun Art completed an initial public offering in Hong Kong, becoming one of the largest hypermarket complex operators in China to be listed in Hong Kong, according to the company's website.
At the end of 2015, Sun Art operated 409 hypermarket across 28 provinces in China with a total gross floor area of approximately 11 million square meters.
In terms of e-commerce, Sun Art established Feiniu.com, its e-commerce platform in 2013, and accelerated its online push in 2015 with the establishment of more e-commerce channels and acquiring control of online grocery store FieldsChina.com.
Sun Art is the largest hypermarket operator in China with 13.7% market share by retail sales value as of 31 December 2015, the company says on its website. Its hypermarket business operates under two brands, Auchan and RT-Mart, or Da Run Fa in Chinese.