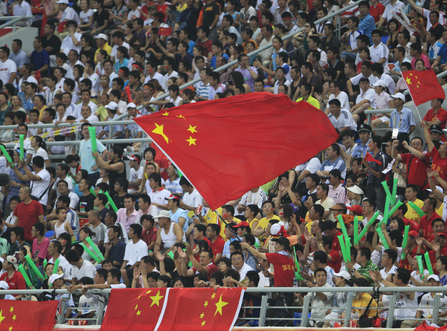 The saga at once high-flying Chinese Internet company LeEco continues. The latest sign of financial distress at the Beijing-based tech conglomerate is that its sports unit has lost the rights to web broadcast Asian Football Confederation soccer games in mainland China after missing payments on a US$100 million contract.
LeSports missed a payment in January and last week failed to meet another deadline to pay a portion of its US$100 million contract. In an emailed statement issued yesterday, LeSports said that it was sincerely sorry that it had disappointed members. The sports unit also said that it would compensate users for the inconvenience caused.
The reported default took place despite news that the company, founded by billionaire Jia Yueting, secured a RMB15.04 billion (US$2.18 billion) investment from property developer Sunac China Holdings in January, and last month sold a 2.3% stake in its smart TV unit for RMB720 million (US$104 million). But the life-saving capital injections were apparently not enough to bail out every subsidiary in LeEco's sprawling empire.
LeSports was also reportedly in the process of raising RMB3 billion (US$439 million) from an unnamed investor in January, but it appears that the deal did not materialize.
The default could be intentional, as Sun Hongbin, Chairman of Sunac China, which provided funding vital for LeEco's continued operations, told Chinese media in January that LeSports would have to pare back on sports broadcasting rights deals and focus on its core video product.
LeSports has entered into web broadcasting right agreements for numerous sporting events, sometimes at prices ten-times higher than previous contracts. It has agreed to broadcast the English Premier League, the NBA, the Chinese Super League and ATP tennis. Sun Hongbin said LeSports would have to significantly reduce future spending on such costly broadcasting rights.
The Asian Football Confederation is the governing body of association football in Asia and Australia. It licenses broadcasting rights for the Asian Champions League, qualifying matches to the World Cup and the Asian Cup.

(Update on March 1, 2017: LeSports responded to China Money Network's inquiry and confirmed the facts listed above. An earlier version of this story said that the facts were reported by media organizations citing insiders.)