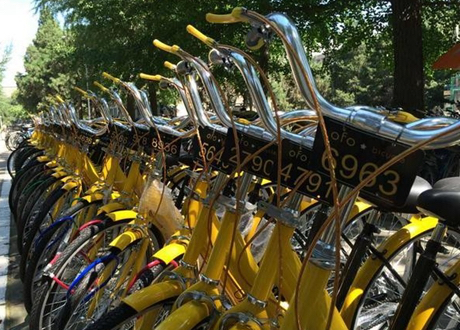 The venture capital fundraising war between two of China's largest bike sharing companies intensified today on news that DST Global, an investment firm founded by Russian venture capitalist Yuri Milner, has led a US$450 million series D round in Chinese bike sharing company ofo.
Eight days ago, Shanghai-based Mobike said it had raised a total of over US$300 million since the start of 2017 from Singapore's state investment firm Temasek Holdings, Chinese investment firm Hillhouse Capital, Tencent Holdings Ltd., Warburg Pincus and other investors.
For ofo's latest round, existing investors Chinese ride sharing giant Didi Chuxing, CITIC Private Equity Funds Management Co., Ltd, New York-based Coatue Management, London-based technology investment company Atomico and China's Macrolink Group also participated in the round.
These top-notch global and Chinese investors are betting on the belief that bike renting, the main services provided by ofo, Mobike and many of their copycats, will have a chance to revolutionize how urban residents conduct so-called last mile commute. Investors seem convinced that people will alter their behavior for the long term to rely on flexible bike renting services to go from subway stations to their offices, for example, in cities around the world.
In Beijing, Shanghai, Shenzhen and other major cities in China, bikes painted with bright colors – as companies intentionally designed their bikes as such to stand out – are seen on almost all major streets. Chinese users, with high smartphone penetration ratio, are quick to adopt the new technology to find, unlock and ride off on a bike, all done via a few swipes on their phones.
But it remains to be seen if the new phenomenon is here to stay, and how commercially sustainable these bike companies will turn out to be. Didi Chuxing, China's ride share leader that acquired Uber China, has been under pressure since last year to prove that it has the financial fundamentals to support its US$34 billion valuation. Didi, in contrast, addresses a more permanent and consistent demand from users.
In addition, many copycats are crowding city streets with rental bikes at a rate that far outstrip the need for rental bikes. Just earlier today, yet another bike sharing company Youno said it raised an undisclosed amount of series A round from Ant Financial, IDG Capital, and plans to distribute over two million bikes in 400 cities in China.
Currently, ofo has deployed one million bikes in China and is expanding overseas. It has 20 million registered users in 40 cities in China, U.S., UK, and Singapore.
Last week, ofo formed a partnership with China Telecommunications and Huawei Technologies Co. Ltd. to improve nationwide wireless Internet coverage and smart lock technology.
The firm previously received tens of millions of U.S. dollars from Didi Chuxing in September 2016, and one month later it received US$130 million venture funding from CITIC Private Equity, Coatue Management and Xiaomi Inc.