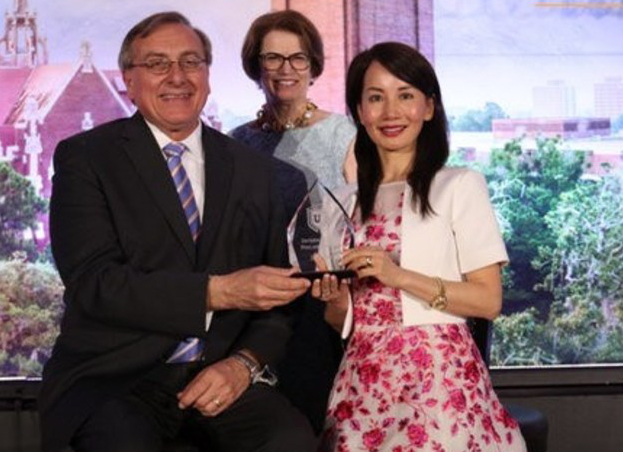 Sun Jie, chief executive officer of Chinese online travel giant Ctrip.com, is setting up a scholarship at the University of Florida, where she studied nearly three decades ago when she was a poor international student.
The scholarship program will support international students furthering studies in business and law. No financial details were disclosed.
Last month, the Jack Ma Foundation, a charitable organization set up in 2014 by the founder of Alibaba Group, agreed to give US$20 million (A$26.4 million) to fund a scholarship program at the University of Newcastle in tribute to Ma's close personal connection to the Australian city.
After a summer school program at the University of Florida 28 years ago, Sun Jie, a sophomore student in Peking University at the time, decided to stay in the United States and pursue a degree in business at the University of Florida.
Despite being cash-strapped, Sun was determined to stand on her own feet through diligence and perseverance. In 1989, when China's economy has yet to take off, Sun's parents were only making less than US$15 per month. She has to work around the clock and pinch every penny to make both ends meet and provide for herself.
"I must work very hard to get a semester's tuition. Fortunately, at that time, we had weekends, so I still had Sunday to study," said Sun in an announcement released by Ctrip.
She would bike seven miles at 6 o'clock every morning to go to school to make sure she could sit in the front row of the first class at seven. Right after noon, when the morning session is over, she would work at part-time job from 1 pm to 6pm, she reminisced.
Professor Nancy Baldwin, who brought Sun to University of Florida, offered Sun a place to live and took good care of the 19-year-old girl ocean away from her parents.
"She had no money, and she couldn't go back home, so she came to live with the Baldwins, and we have loved her as a daughter," said Baldwin.
Sun said since then she has made a wish to "help those good children who study hard, and also need help. I hope those children could have more opportunities."
By waiting tables at the university at US$3 an hour, Sun managed to put herself through graduation and landed on a job at KPMG in 1992. In 2005, she went back to China to join Ctrip. She has named CEO in January as co-founder James Jianzhang Liang resigned his post but remained as executive chairman of the board.
Chen Qiao, a Chinese girl studying at the university's business school, was the first recipient of the newly-established scholarship. "I feel deeply grateful to her," said Chen, who is from a modest family in a remote area in Jiangxi, China.
"I hope that through the establishment of this scholarship, international students could have the opportunity to achieve their dreams in the United States, and I also hope the University of Florida can achieve better development in China, and bring the best talent here," Sun said.