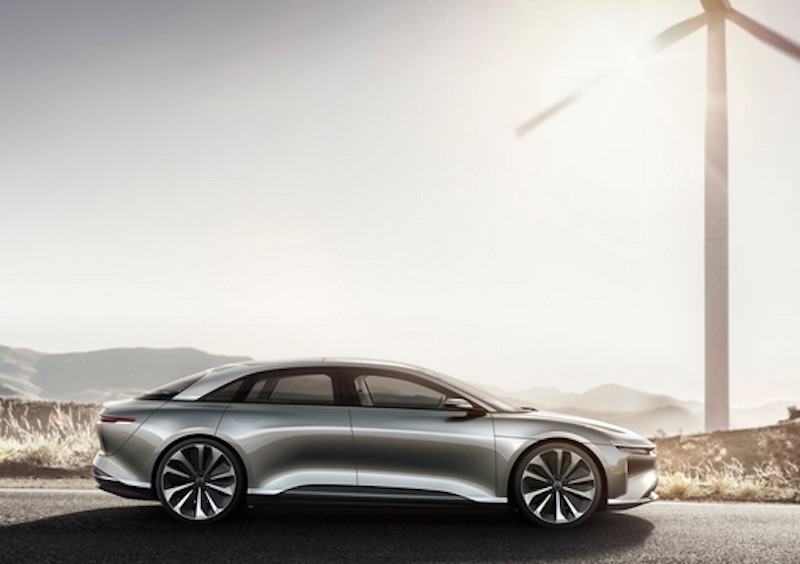 Menlo Park, California-based Lucid Motors, an electric car start-up backed by China's LeEco, Tsing Capital and others, has priced its all-electric car Lucid Air at US$60,000 for a 400-horsepower rear-wheel drive version of the sedan with a 240 miles range.
After deducting the federal tax credit available for buyers of electric vehicles, the Lucid Air will have a base price of US$52,500. The base model car will provide better performance than comparably priced BMWs and Mercedes-Benzes, the company claims.
Lucid, which secured over US$200 million from Chinese Internet conglomerate LeEco, investment firm Tsing Capital, as well as Japan's Mitsui & Co., Ltd., U.S. venture firm Venrock and other investors, is planning to start shipping cars in 2019, first in the U.S., followed by China and Europe.
Lucid, founded in 2007, is aiming to sell 8,000 to 10,000 vehicles in its first full year of production, ramping up to about 50,000 annually within three years. It is also planning to build a US$700 million factory in the U.S. state of Arizona.
There isn't much clarity regarding the company's background or its key shareholders. China Environmental Fund, an offshore fund specialized in the environmental protection sector in the country, and Jafco Life Science, are also investors in the company, according to past media reports.
Lucid did not immediately respond to an inquiry from China Money Network to provide more details about its key investors.
Sam Weng, an entrepreneur with previous work experience at Redback Networks and Oracle, is listed as the company's only co-founder. Weng is the chief operating officer of Lucid, and is responsible for the day-to-day operations of the company's U.S. and Asia offices.
Peter Rawlinson, former vice president of vehicle engineering at Tesla and chief engineer of Tesla's Model S, is Lucid's chief technology officer.
One of Lucid's investors, struggling Chinese Internet company LeEco, is also a key backer of another U.S. electric vehicle start-up, Faraday Future.