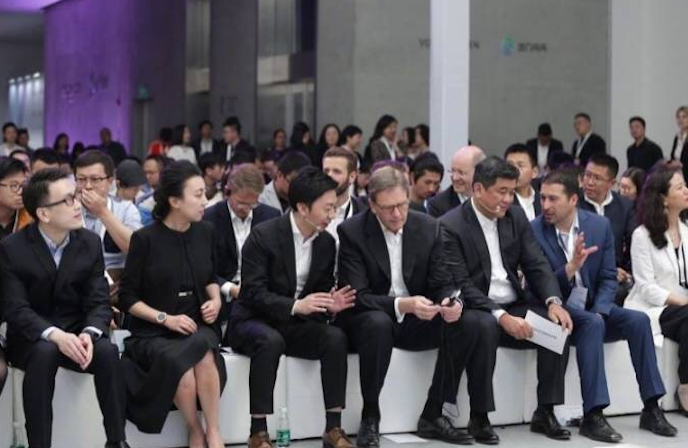 In a further sign of China's technological advancement, Volkswagen Group China, a subsidiary of German automotive giant Volkswagen Group, has led a US$180 million series D financing round in Mobvoi, a Chinese speech recognition and artificial intelligence company backed by Google.
Volkswagen and Mobvoi said they plan to establish a 50-50 joint venture company to develop automotive applications based on Mobvoi's cutting-edge voice recognition and natural language processing technologies.
"This partnership is a particular example of Volkswagen's determination to work with groundbreaking Chinese tech companies like Mobvoi to create new forms of people-oriented mobility technology," said Prof. Dr. Heizmann, President and CEO of Volkswagen Group China. "We are impressed by Mobvoi's innovative approach to AI technologies, and we are pleased to form this joint venture to explore the next generation of smart mobility."
The joint effort between Mobvoi and Volkswagen is a milestone for both AI and the automotive industry in China. The in-vehicle experience of human-machine interaction is a key focuses of Mobvoi. The joint venture will develop products for a wide range of Volkswagen Group models as well as other brands.
Initial products will include Mobvoi's existing smart rear-view mirror, which provides navigation, POI (points of interest) search, instant messaging, and on-board infotainment via voice input. In addition to Volkswagen Group models, the joint venture partners believe the technologies will be attractive throughout the automotive industry.
Founded in 2012 by former Google research scientists Li Zhifei and Mike Lei, Mobvoi develops and applies speech recognition technology and Chinese language processing to smart wearable devices. Its products include smart watch Ticwatch, smart rear-view mirror Ticmirror, and voice driving assistant mobile app Ticauto.
Ranked eighth in China Money Network's China AI Top 10 Ranking earlier this year, Mobvoi, also known as Chumenwenwen in Chinese, became a strategic partner to Google's Android Ware in 2015 by providing Chinese language recognition and processing capabilities.
Google, Sequoia Capital's angel investment unit, China's angel investor Zhen Fund, SIG Asia Investment and unnamed Chinese technology companies previously invested roughly US$70 million in Mobvoi. With the additional US$180 million from Volkswagen, Mobvoi announced that its total fundraising has increased to US$250 million.
"I feel indescribably proud for the investment from Volkswagen. Five years ago, Li Zhifei left his position as a scientist at Google to return to China and start up his own company. Even though I didn't understand what he was doing, I saw his dream and determination. One U.S. investor withdrew at the last minute, and I stepped up to support him," wrote Xu Xiaoping, founder of Zhen Fund, in a Weibo posting today.