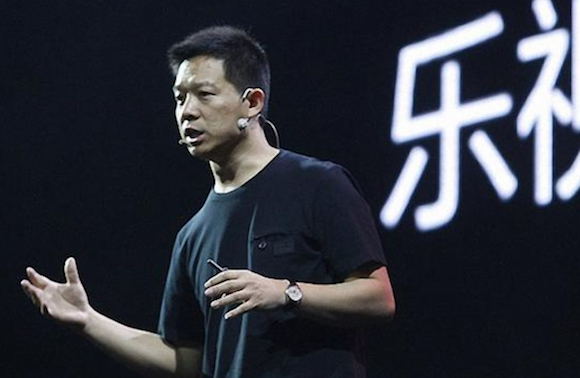 Struggling Chinese Internet conglomerate LeEco is reportedly laying off 175, or one third, of its U.S.-based staff, after the company achieved only 15% of its sales target in the world's largest economy last year.
LeEco, headed by Chinese billionaire entrepreneur Jia Yueting (pictured), officially entered the U.S. market last October with plans to market its smart TV, smartphones, virtual reality headsets and electric bicycles.
Six months in, however, the company has sold only US$15 million worth of smart TVs, smartphones and parts, against its original sales target of US$100 million, according to Chinese media reports.
At the same time, LeEco announced on Monday that it would abandon its proposed US$2 billion acquisition of American consumer electronics developer Vizio Inc., citing regulatory hurdles.
The news follows reports last month that LeEco was planning to sell its Santa Clara headquarter site for US$260 million to Chinese real estate developer Genzon Group. LeEco bought the 49-acre property from Yahoo Inc. for US$250 million last June, planning to build its global headquarter there.
LeEco did not immediately respond to an inquiry from China Money Network to confirm the news.
LeEco's products sold in the U.S. include a US$399 smart phone LePro 3, a US$8,000 high-end smart TV Max85, and a visual reality headset. Currently, LeEco's only sales channel in the U.S. is via its official website LeMall.com, indicating the company lacks understanding of the U.S. market, industry experts say.
In addition to the lay offs, LeEco is reportedly delaying the payroll of its U.S. staff and delaying payment to its U.S. suppliers. Additional staff cuts may be forthcoming, but currently the cash-strapped the company cannot afford dismissal fees, according to Chinese media reports.
Last November, LeEco said it planned to cut around 10%, or about 800, of its employees at its sports video streaming unit LeSports. One month later, LeEco laid off another 60 staff in its Hong Kong office as the company sought to restructure and optimize its operations.