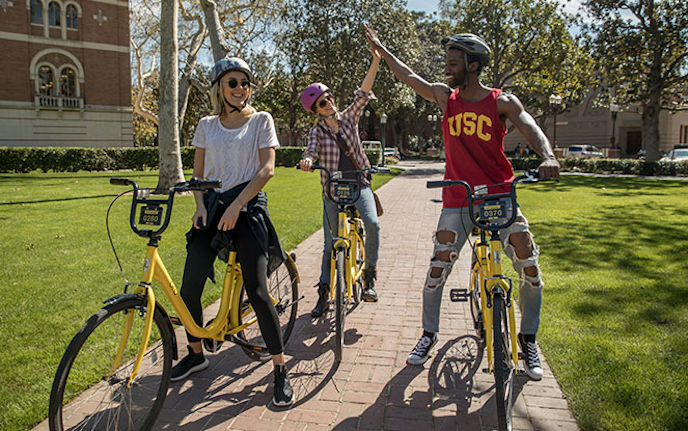 Beijing-based bike sharing company ofo is now worth more than US$2 billion, CEO Dai Wei claimed during a media interview. The valuation is about double the company's estimated worth only 40 days ago when it raised a US$450 million round with a valuation of just over US$1 billion.
The 26-year-old entrepreneur Dai Wei did not say how the company doubled its valuation in 40 days, or if the company is raising new capital.
The start-up, founded in 2014, raised a US$450 million series D round led by DST Global in early March. It did not disclose the company's valuation at that time, but said that ofo had reached unicorn status, which means it was valued at over US$1 billion.
ofo's biggest rival, Shanghai-based bike sharing company Mobike, has also become a unicorn after it completed a US$215 million series C round from Tencent Holdings Ltd. and Warburg Pincus in January. It's unclear how much Mobike is worth now.
Started with RMB150,000 in registered capital in 2014, ofo has grown into a start-up with operations in over 50 cities in China, deploying over three million bikes.
It is expanding internationally at a dazzling pace. After expanding into Singapore and London, it plans to cover 20 countries by the end of this year, including Japan, Spain, France, Germany and the Philippine.
Ofo previously raised a US$100 million series C round from CITIC Private Equity, Coatue Management and Xiaomi Inc. last October. Chinese ride sharing giant Didi Chuxing is also a major investor in ofo, in addition to Matrix Partners China, GSR Ventures and Vision Plus Capital.
Bike sharing in China became a hot concept last year and has become a frenzy this year. In just the past two month, Tianjin-based Bluegogo raised a RMB400 million (US$58 million), while Jiangsu province-based Youon Bike completed an undisclosed series financing round from Ant Financial, IDG Capital and Shenzhen Capital Group Co., Ltd. Two days ago, Hellobike raised an undisclosed series B funding round from Chengwei Capital.
On the other side of the Pacific, U.S. bike sharing start-up Limebike, founded by two Chinese entrepreneurs, received US$12 million from Silicon Valley-based venture capital firm Andreessen Horowitz last month.
Many investors question whether the enthusiasm has become over-stretched. The question still remains on how these bike sharing companies can make money, and how sustainable will user traction be.