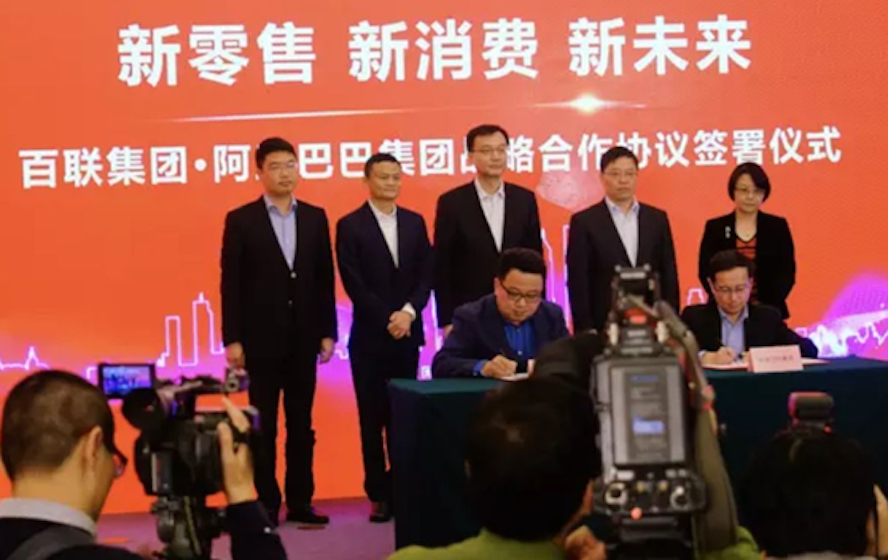 Chinese e-commerce giant Alibaba Group Holding Ltd. continues to expand its holdings in brick-and-mortar retail assets, announcing a deal to buy an 18% stake in the Lianhua Supermarket chain, owned by Shanghai-based Bailian Group.
The deal, which comes three months after Alibaba established a strategic partnership with Bailian Group, will see Alibaba become the second largest shareholder of Hong Kong-listed Lianhua Supermarket Holdings Co., Ltd.
Alibaba bought the stake from Yiguo, a fresh produce delivery company. Lianhua Supermarket has a total market capitalization of HK$1.49 billion (US$192 million).
The transaction follows a number of similar deals, in which Alibaba purchased traditional brick-and-mortar retail businesses in an effort to create synergy with its e-commerce platform.
Alibaba acquired supermarket chain Sanjiang Shopping Club Co., Ltd. last year, and is rumored to be eyeing a stake in retail chain RT-Mart International Ltd. In January, Alibaba offered to privatize Intime Retail, a Chinese department store and mall operator, while it bought a stake in electronics retailer Suning Commerce Group in 2015.
Alibaba and Lianhua are committed to execute the so-called "New Retail"strategy, a term coined by Alibaba's founder Jack Ma referring to a retail business model via both online and offline channels. The two parties will rebuild smart retail stores based on big data to improve consumer experience and efficiency, according to an announcement.
In February, Alibaba established a strategic partnership with Bailian to explore new retail opportunities, with plans to jointly design cross-channel store operation and ordering systems, integrate membership bases and combine resources in supply chain management.
Shanghai-based Bailian Group is a state-owned enterprise and owns a number of major retail groups in China, including Shanghai Yibai (Group) Co. Ltd., Hualian (Group) Co., Ltd., and Shanghai Friendship (Group) Co., Ltd.