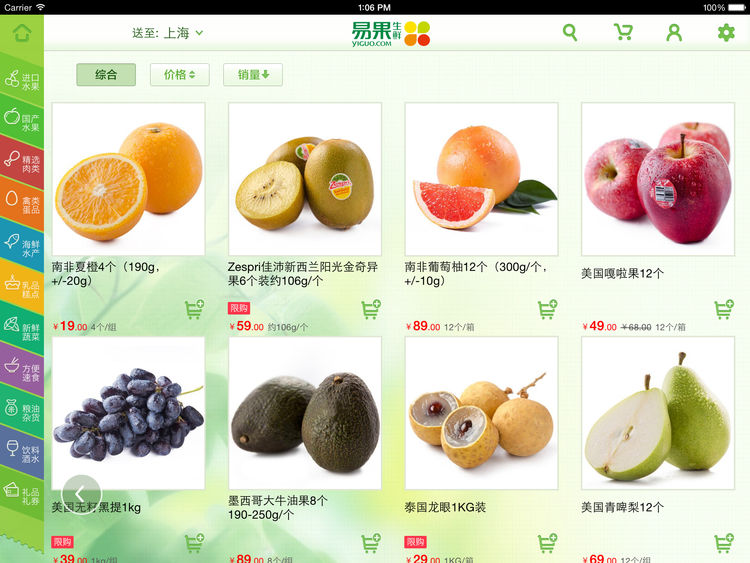 Tmall, Alibaba Group Holding Ltd's business-to-customer e-commerce platform, has invested US$300 million in Yiguo.com, a fresh produce e-commerce platform.
With the investment, Yiguo.com will integrate with Tmall to support Tmall's development in fresh food purchasing, supply chain management and logistics, helping it compete with rival JD Daojia.
Yiguo.com also plans to use the proceeds to invest in ExFresh, a cold chain logistic unit under Yiguo.com, to improve its infrastructure and support its expansion.
"With the integration between Tmall and Yiguo.com, ExFress will provide better cold chain express services for Tmall's commercial customers," said Jing Jie, vice president at Alibaba. "We will provide customers with fresh food from 147 countries like the U.S., Argentina, Norway and Australia. We will also offer plenty of domestic products."
The transaction value of domestic fresh produce e-commerce platforms reached RMB91 billion (US$13 billion) in 2016, up 80% year-on-year. That figure is expected to reach RMB150 billion (US$22 billion) this year, according to China e-Business Research Center.
Founded in 2005, Shanghai-based Yiguo.com operates its own network of independent cold chain logistics facilities covering 310 major cities in 27 provinces. It has established 11 cold chain logistics centers in 10 cities, including Beijing, Shanghai, Guangzhou and Hangzhou.
The company guarantees one-day delivery in the cities of Beijing, Shanghai, Guangzhou and Chengdu, and two-day delivery in over 200 cities, according to a company announcement.
Alibaba has participated in the three of four previous funding rounds in Yiguo.com. The company received a US$200 million series C+ round from Suning Commerce Group last November. Eight months prior, it raised a US$260 million series C round from KKR & Co. L.P. and Alibaba.
The start-up received funding from Alibaba and Yunfeng in 2014 for an undisclosed amount of money. Alibaba also invested tens of millions of U.S. dollars in Yiguo.com in 2013.