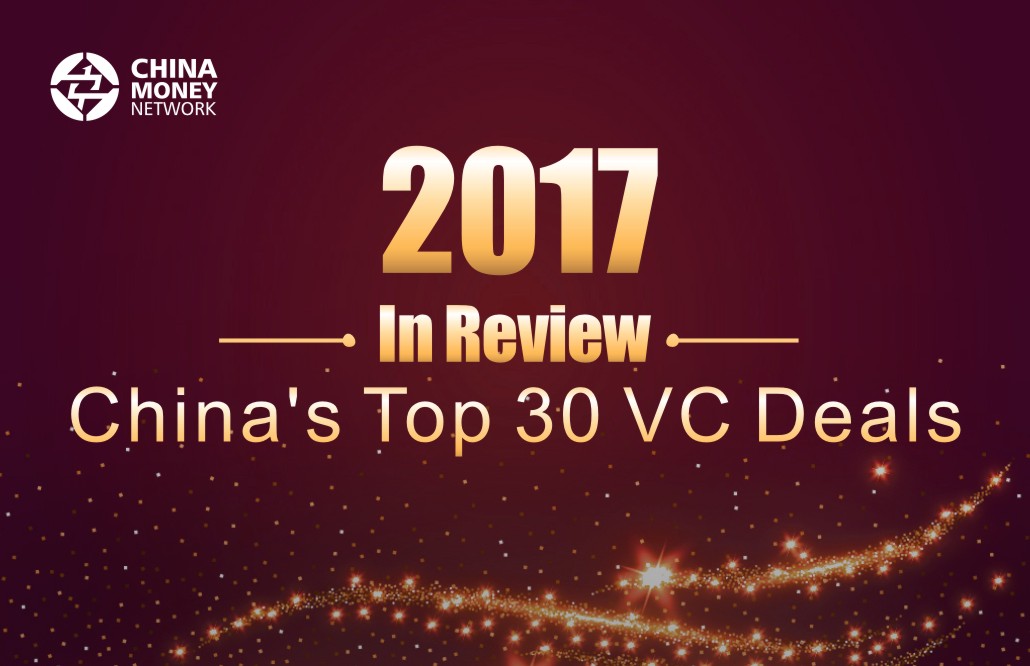 For China venture capitalists, 2017 was a big deal year. While overall VC activity kept the robust pace of a record 2016, the year of 2017 witnessed a large number of record-setting mega deals that defined the growth trajectory of China's tech sector and made headlines worldwide.
To get a clearer picture of how China's VC market developed this year, China Money Network has for the first time ranked the 30 largest VC deals led by Chinese investors in Chinese companies.
It's an impressive set of deals, raising US$24.46 billion in total, slightly more than the annual GDP of Estonia. The sharing economy was the largest recipient of VC money, followed by China's fast-developing electric automotive sector and artificial intelligence. In a sign of the growing clout of the Chinese VC market, the nation recorded five deals worth US$1 billion or more so far this year, while the U.S. logged only two deals of comparable size.
Topping the list is ride sharing firm Didi Chuxing, which made history in April by raising US$5.5 billion in a single round, the largest VC financing transaction ever recorded. Meituan-Dianping, China's largest service-focused e-commerce platform, ranked second with an equally huge US$4 billion round in October. Next on the list is a US$1.6 billion round by electric car maker BAIC BJEV, while on demand services firm Koubei raised a US$1.1 billion and electric car starup NIO raised a US$1 billion round.
By comparison, the U.S. saw only two rounds worth over US$1 billion so far in 2017: Wework's US$4.4 billion round in August and e-commerce platform Fanatics' US$1 billion round in the same month, both from SoftBank Group.
The sharing economy stood out as the "all-star" industry when it comes to attracting large sums of VC capital, accounting for nine of the top 30 deals. Along with Didi Chuxing, they include bike sharing companies ofo, Mobike and Hellobike, as well as working space sharing WeWork China, and home sharing Tujia.com.
Artificial intelligence and electric vehicles were also hot sectors for mega-deals, with three deals each included in the Top 30 List. Facial recognition firm Face++ and SenseTime raised US$460 million and US$410 million respectively, while humanoid robotics start-up Ubtech received a US$400 series C round from Tencent Holdings Ltd last month. Together with BAIC BJEV and NIO, another Chinese electric vehicle maker Xiaopeng Motors' US$320 million series B round in June got into the list.
Several companies received multiple rounds of funding that made the list. Bike sharing company ofo and Chinese electric vehicle maker NIO both closed more than one mega deals. In March, ofo raised a US$450 million series D round from DST, Didi Chuxing, CITIC Private Equity and Matrix Partners China. Just four months later, it received another US$700 million led by Alibaba. NIO raised a US$600 million in March valuing it at US$2.8 billion, then last month completed a US$1 billion funding round led by Tencent Holding Ltd. at a reported valuation of US$5 billion.
In total, US$41.8 billion worth of venture capital investments were made during the first three quarters in China, while that number for year-to-date as of December 5, 2017 stood at US$54.2 billion, according to Preqin. This places China a close second to the world's largest VC market, the United States, with some predicting China to surpass the U.S. within the next few years.
As part of China Money Network's 2017 In Review series, this Top 30 VC deals list excludes deals that are not yet confirmed by the companies or investors. Ele.me's US$1.25 billion round from Alibaba Group and Ant Financial, as well as Toutiao's US$1 billion round this April, are excluded because these are not yet announced or confirmed. In addition, strategic investments, private equity deals or investments made in listed companies are all excluded from this list.
Likewise, some mega-deals made by Chinese companies overseas were excluded from the list, both due to their location outside of China, and because they are arguably strategic deals. They include the US$2 billion funding round in Malaysian ride hailing company Grab in July, led by Didi Chuxing and SoftBank, Tencent's US$1.1 billion round in India taxi company Ola in October, and Alibaba's US$1.1 billion investment this August in Tokopedia, Indonesia's biggest online marketplaces. Lastly, funding rounds where companies raised the same amount of money are ranked chronologically.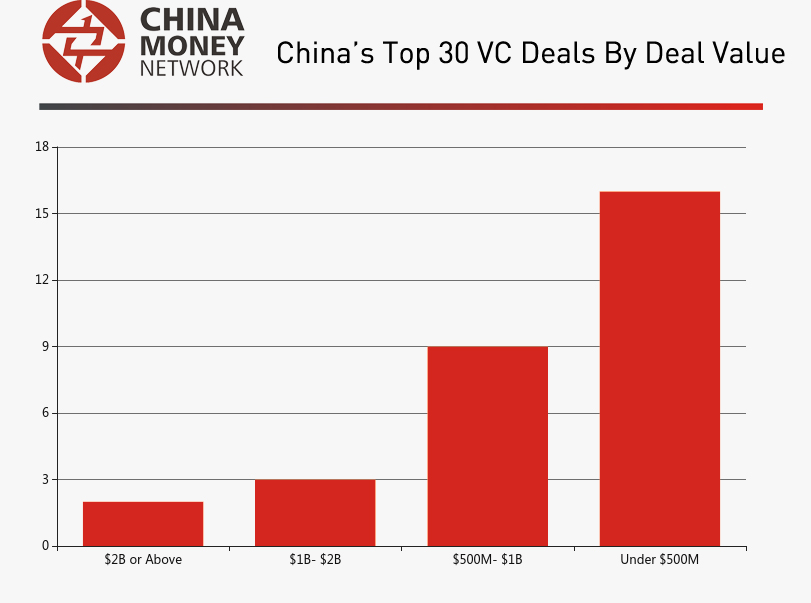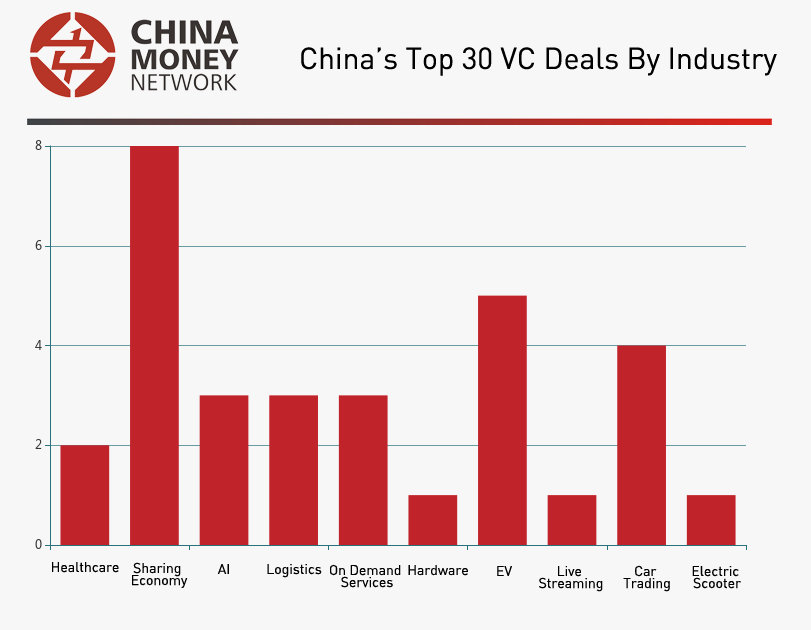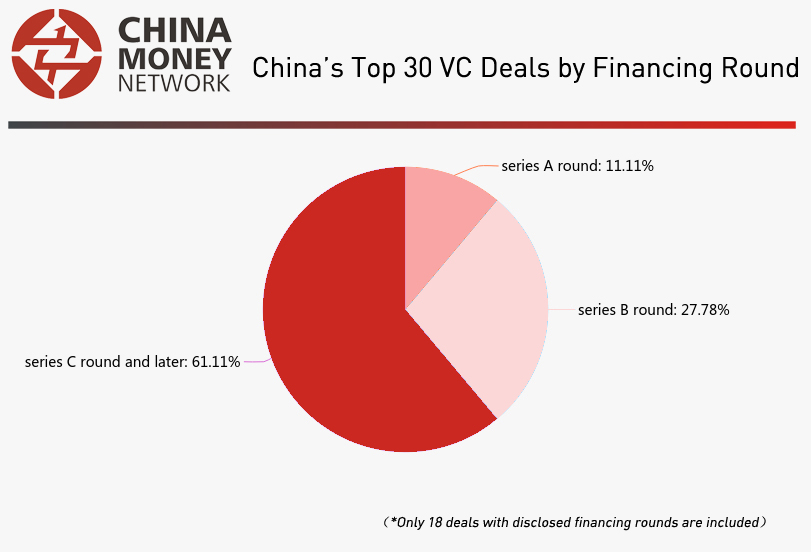 (All charts and numbers are from China Money Network.)