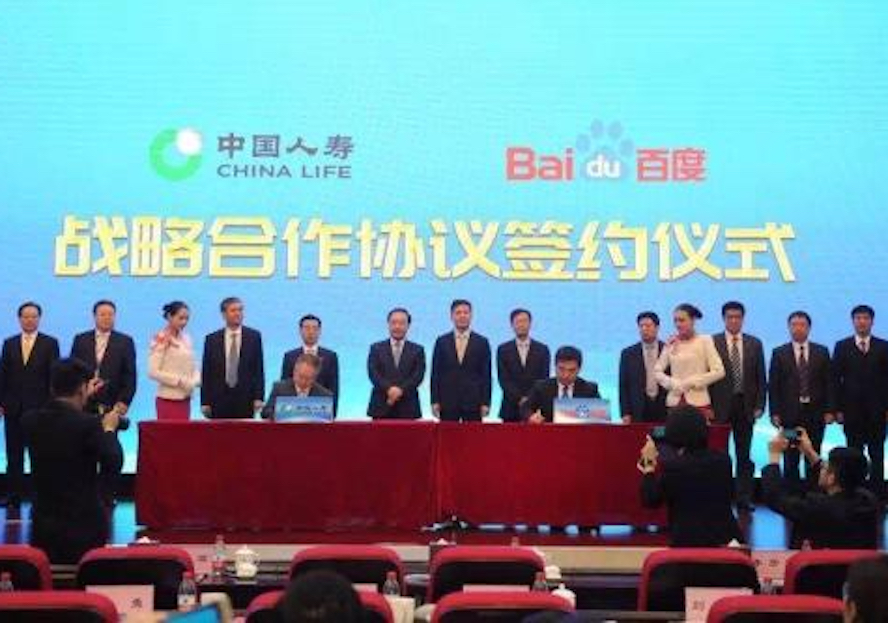 China's Baidu Inc has teamed up with China Life Insurance Co., Ltd. to jointly launch a RMB14 billion (US$2.12 billion) investment fund to back companies in the mobile Internet, artificial intelligence, fintech and other advanced technology sectors.
The two companies revealed the formation of the joint fund during a signing ceremony in Beijing today, following an initial partnership agreement announced in February. A Baidu executive declined to provide more details when contacted by China Money Network.
The establishment of the RMB-denominated fund comes at a time when Baidu is intensifying its drive toward more AI investments. Chinese insurers, after being permitted to invest in venture capital in 2014 by regulators, need to deploy large sums of capital to alternative investments to diversify its portfolio.
China Life previously stated that partnering with Baidu will help it access top-tier opportunities in innovative technology projects in China. It will also help China Life train its own professional investment team in order to build a solid foundation for its future equity investment endeavors.
The Baidu-China Life fund is to be managed by Baidu Capital, Baidu's private investment arm. It will focus on making middle and late-stage investments in areas surrounding Internet and its applications in traditional sectors, in addition to AI, fintech and consumer upgrade.
China Life is committing capital to the joint fund via China Life Investment Holding Co., Ltd., China Life's alternative investment unit with over RMB290 billion (US$43.8 billion) under management.
Baidu Capital, which has RMB20 billion (US$3 billion) under management after being set up in 2016, previously invested in a Uber-like mobile app operator for trucking companies in China called Huochebang and Chinese electric vehicle start-up NIO.
Baidu also established a venture capital arm, Baidu Ventures, in 2016 to back early-stage start-up companies. This year, the Chinese search engine giant also launched an Apollo Fund and DuerOS Fund to invest in autonomous driving and interactive AI field, respectively.