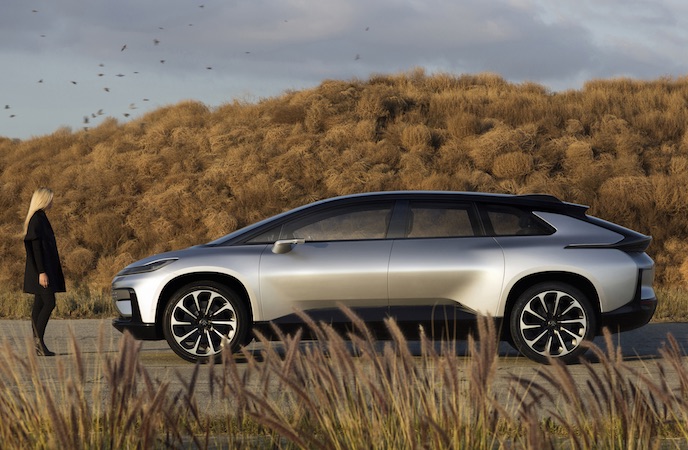 Faraday Future, the Los Angeles based electric car company run by China's Jia Yueting, who also founded LeEco, has filed a lawsuit against Evelozcity, a start-up founded by its former chief financial officer Stefan Krause, for allegedly stealing trade secrets.
Faraday Future also accused Krause and former CTO Ulrich Kranz of luring away at least 20 former employees to join their electric vehicle start-up, some of whom provided Faraday Future's intellectual property to Evelozcity, according to a complaint filed with California federal court.
Faraday Future did not responded immediately to an inquiry from China Money Network for comments. In a memo to employees explaining the lawsuit, Faraday asked employees to not comments on the litigation.
In a statement, Evelozcity stated, "We do not have, nor do we need, any technology from Faraday Future. This complaint continues Faraday's pattern of hurling false and inflammatory accusations against us. We will respond to the many recklessly inaccurate allegations in this desperate lawsuit at the appropriate time."
In November, Stefan Krause accused Faraday Future of defamation regarding the reasons given for his recent departure from the company. At that time, Faraday Future said the company decided to end its employment contract with Krause due to his possible violation of the law and lack of contribution. In response, Krause said in a statement that he resigned from the company, and claimed that Faraday Future's statement inaccurately portrayed him and his contributions.
Before working for Faraday Future, Krause was a Deutsche Bank executive and chief financial officer of Bayerische Motoren Werke AG.
Chinese-backed Faraday Future has been facing a sever cash storage. Media reported that the company's struggling to raise new funding is partly due to the anxiety over Jia Yueting, and he was required to step down by investors. Last month, Faraday Future reportedly raised new funding, without disclosing its investors and the dollar amount.
In addition, Jia face a mounting debt crisis in China resulting from the collapse of LeEco. Last month, he was reportedly placed on a national list of defaulters after failing to comply with a court order related to unpaid debts, including a RMB465 million (US$70.2 million) debt to Ping An Securities which was due in last September.