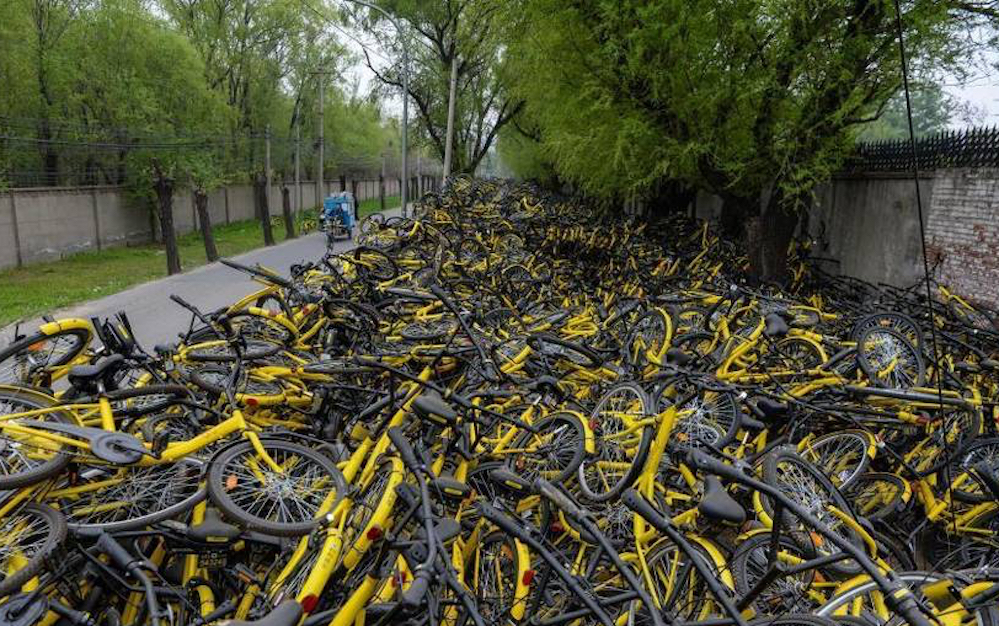 In a sign of financial distress derived from shareholder disagreements, bike sharing company Ofo has mortgaged its own bicycles in order to receive two loans worth RMB1.77 billion (US$280 million) from Alibaba's affiliates, according to data from the National Enterprise Credit Information Publicity System. 
By pledging more than four million bikes, ofo risks losing its most important asset. But local media reported that ofo was forced to strike the deal with Alibaba because its major investor Didi Chuxing would not allow it to take direct investment from Alibaba. A US$700 million previous financing round led by Alibaba in ofo announced last summer was reportedly stuck as well amid in-fighting among ofo's key shareholders.
Didi told China Money Network that it did not veto such plan and is partner with Alibaba in ofo. Ofo declined to comment while Alibaba did not immediately respond to China Money Network's email seeking comment.
According to the credit information system, Ofo (HK) Limited is the shareholder of Shanghai Aofo Hesheng Internet Technology Ltd., whose executive director is ofo's CEO Dai Wei. Shanghai Aofo Hesheng borrowed RMB1.27 billion (US$200.7 million) from Zhejiang Tmall Technology Co., Ltd. on February 12th and borrowed RMB500 million (US$79 million) from Shanghai Yunxin Entrepreneurship Investment Co., Ltd. on February 5th. Ant Financial is the controlling shareholder of Shanghai Yunxin Entrepreneurship Investment, according to the system.
To complete the transaction with Shanghai Yunxin Entrepreneurship Investment, ofo pledged more than four million bikes it placed on the streets of Beijing, Shenzhen, Shanghai and Guangzhou. For the transaction with Tmall, certain bikes were also pledged as collateral, though the number was not disclosed.
The transaction comes at a time of rapid change in the bike sharing business as new entrants jockey for position in an increasingly crowded market and the cash-burning business model proves to be hard to sustain.
Last month, Alibaba was reported to have bought a US$3 billion stake in bike sharing firm ofo from GSR Ventures. Didi Chuxing holds a 25.32% share in ofo, while company founder Dai Wei and Matrix Partners China own 36.02% and 10.15% respectively, for a combined 72%, according to Chinese business data platform Tianyancha. As such, Chinese media speculated that the 30% stake sold by GSR could include ofo shares held by Didi, which is a portfolio company of GSR.
An anonymous lawyer told local media that if  ofo fails to pay its debt to Alibaba, Alibaba may have a chance to negotiate with Didi to swap some of its debt to equity to increase its shares in ofo. If Didi refuses, ofo may become an empty shell.
Sharing bike is seen as an important offline entry to Alibaba's mobile payment business. Last December, Ant Financial participated in a US$350 million series D round in bike sharing firm Hellobike, two months after it merged with Shanghai Stock Exchange-listed bike rental firm Youon Bike, which is also backed by Ant Financial.
China Money Network has previously reported that Ofo's relation with Didi Chuxing has worsened in the past few months, as Didi's attempts to strengthen control over the bike sharing company have met resistance from ofo's management team headed by Dai Wei, according to Chinese media reports citing insiders. Last month, Didi launched a comprehensive bike-sharing platform, where it will integrate the services of Bluegogo and ofo, as well as its own soon-to-launch bike sharing services.
Ofo's mortgage deal also reflects the strain the company is feeling amid competition with its largest competitor Mobike. Local media has reported that both ofo and Mobike no longer provide free rides to new customers and have both increased their monthly fees to RMB20 a month, from about RMB1 to RMB2 previously. Gone are the days when venture capitals and start-ups burnt cashes to provide massive subsidies.