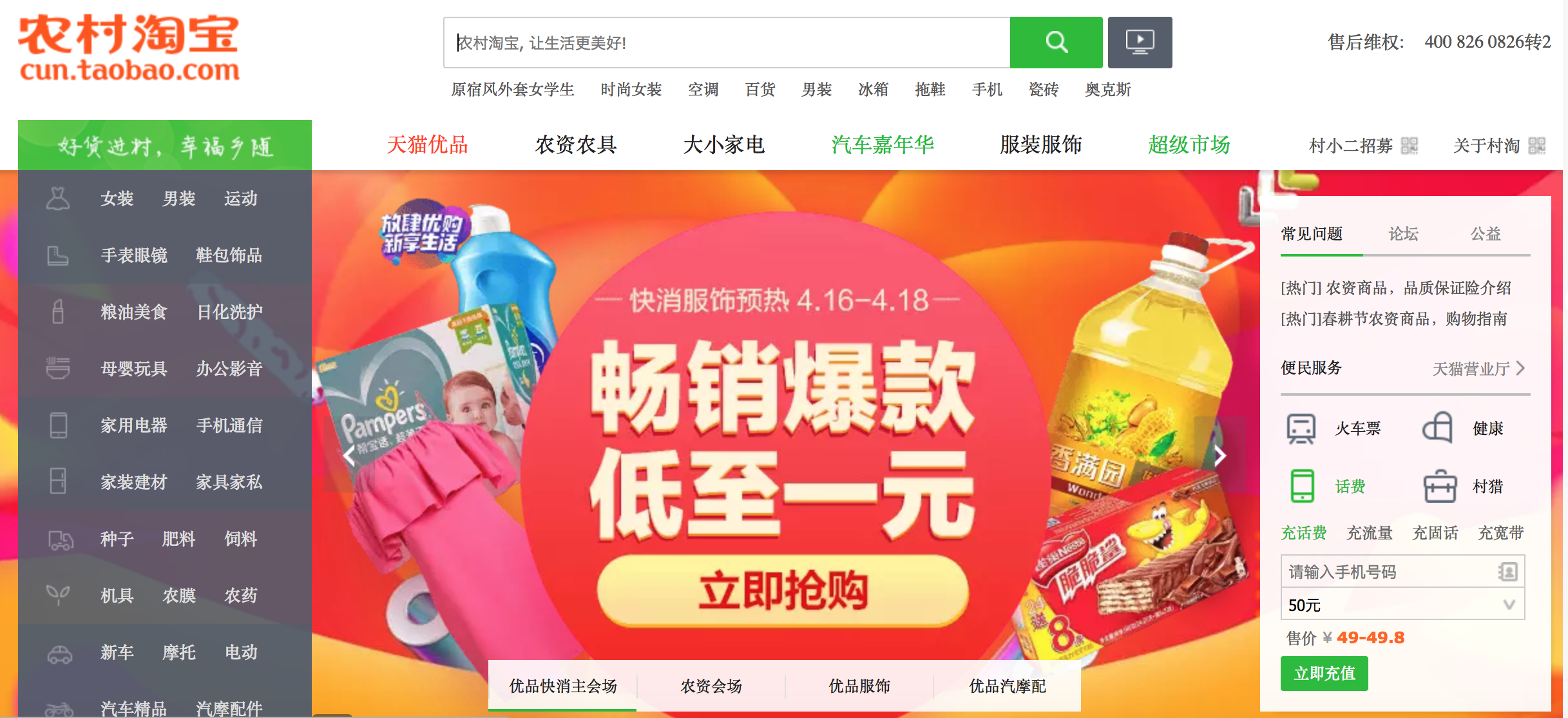 China's e-commerce giant Alibaba Group Holding will invest RMB4.5 billion (US$717.2 million) in Huitongda Network Co., an e-commerce platform serving rural consumers, in a bid to expand its sales outside major cities.
As e-commerce sales to city dweller approaches saturation, Internet companies are turning to the almost 600 million Chinese who live in rural area for growth. Alibaba's rival JD.com has been developing drones that can delivery goods to remote rural areas. Another Alibaba rival Pingduoduo, which has more than half of its users in rural areas and lower-tier cities, was reported to raise a US$3 billion round led by Tencent this month.
Founded in 2010, Huitongda is a subsidiary of of Nanjing-based conglomerate Five Star Holdings. Huitongda integrates different business models including B2B, B2C and O2O to serve rural customers. It operates in 18 provinces, covering more than 15,000 towns and cooperating with more than 80,000 mom-and-pop stores across China.
The rural market has always been a strategic focus of Alibaba. Its Rural Taobao initiative covers 29 provinces, with more than 700 counties and 30,000 villages.  More than RMB100 billion (US$15.9 billion) of the sales on Alibaba's retail platform comes from agricultural products and it connects more than one million farmer vendors.
The two parties will cooperate in supply chain, warehousing, logistics and technologies to provide more brands to rural consumers, and to leverage Alibaba's cloud platform and logistics solutions.
Huitongda previously raised four rounds of funding totaling RMB1.8 billion (US$286.86 million).  Its existing investors include Shunwei Capital, Huaxia Life Insurance Co., Ltd., China Merchants Bank, Jiangsu Govtor Capital and others.