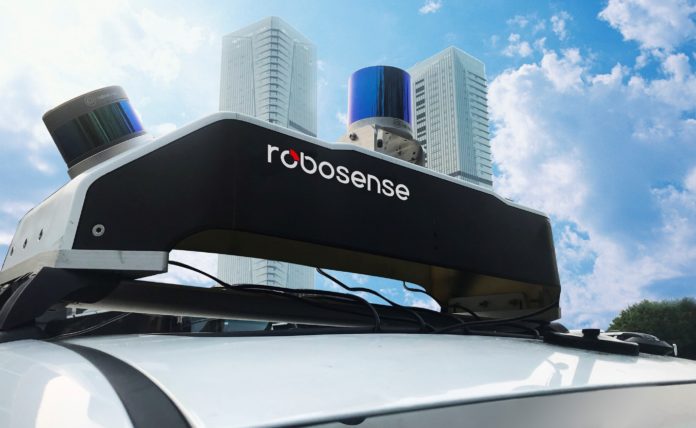 RoboSense, a Chinese provider of lidar sensors used in driverless cars, announced today the completion of a over US$45 million financing round, making it the largest single round of fundraising for a lidar company in China.
Investors including Chinese internet giant Alibaba Group Holding and the country's state-owned auto companies SAIC Motor Corp and BAIC Group participated in the new round.
The Shenzhen-based RoboSense plans to use the funding to enhance research of autonomous vehicle technologies including solid-state lidar and artificial intelligence (AI) sensing algorithms.
The company will step up its efforts to develop products and expand market share, said the company in a statement on Wednesday.
"This round of funding is not only for capital assistance, but also for strategic resources. We are looking forward to continuously working with our partners to lead the large-scale commercialization era of the autonomous driving industry," said Mark Qiu, co-founder of RoboSense, in the same statement.
The new financing round comes at a time when the global car industry is pushing for production and adoption of driverless cars as it has been creating numerous business opportunities for many companies along the industry chain.
Global sales of self-driving cars is estimated to reach 21 million vehicles by 2035, up from nearly 600,000 vehicles in 2025, as per a report by London-based global information provider IHS Markit.
"The rapid development of autonomous driving has ignited a huge demand for lidar," said Qiu in the statement.
"RoboSense is embracing this market demand through partnerships with multiple industry leaders," he added.
Founded in 2014, RoboSense, formally known as Suteng Innovation Technology Co. Ltd., provides robotic perception solutions to integrate lidar hardware, 3D data processing algorithms and deep learning technology.
The company has been a supplier for partners including Chinese e-commerce giant JD.com, retailer Suning.com and group buying website Meituan Dianping for their self-driving delivery vehicles.
RoboSense is backed by Chinese securities firm Haitong Securities and Chinese investment firm Fosun Group. In addition, Alibaba holds company's stake through its logistics arm Cainiao Smart Logistics Network.