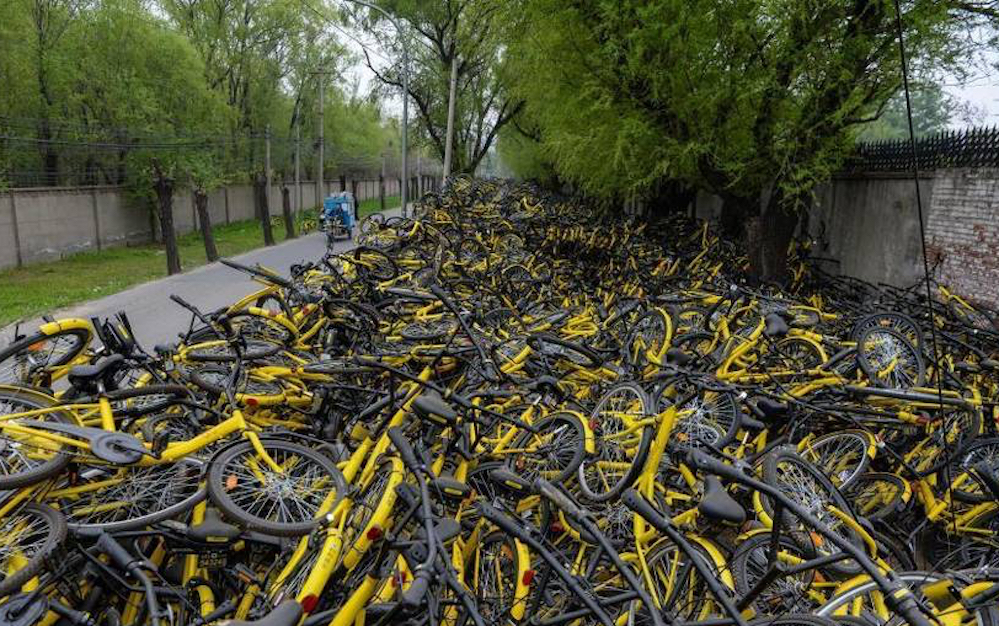 Chinese bicycle sharing firm ofo is planning to withdraw its current operations from Japan by the 31th of October, only seven months after it entered the world's second-largest developed economy, according to a Japanese local media.
Local governments of the three cities, namely Otsu, Wakayama and Kitakyushu, have received notices from the bike-rental giant of its plan to withdraw, Japanese media outlet Nikkei reported on October 25.
The bike-rental giant has reportedly told the government officials in Otsu, a city where it had kick-started bike sharing operation for merely seven months, that it would end their partnership by the end of October, said Nikkei citing a government official.
Wakayama and Kitakyushu government sold Global Times that they have got official inform from ofo to stop bike sharing services by the 31th of October.
Nikkei reported that the fierce competition and the disorderly parking problem are the main suspects behind ofo's decision.
The lemon-yellow bicycles of ofo first launched its bike sharing service in the western Japan's Wakayama city in March.
According to its websites, ofo provides services in over 250 cities in 21 countries around the world, including over 50 foreign cities, such as the United Kingdom, Mexico, Australia, France, Italy, Japan, Russia, and the United States.
Ofo announced in July to restructure its international strategy to concentrate on certain markets where it is operating well, and withdraw from the others including Australia, Austria, the Czech Republic, Germany, India and Israel to save operating costs, according to several Chinese reports.
The shifted international strategy will see ofo's founder and chief executive Dai Wei directly oversee the company's business layout to optimize global team structure and enhance efficiency.
Its operations in seven cities in India, for example, has been halted in July, only six months after it entered the Indian market. The company's ambitions in the U.S. is also encountering with difficulties as it is shutting down operations in several cities, according to The Wall Street Journal citing people familiar with the matter.
In March, ofo had raised US$866 million in series E2-1 round of financing led by e-commerce giant Alibaba. Haofeng Group, Tianhe Capital, Ant Financial and Junli Capital also participated in the same round.