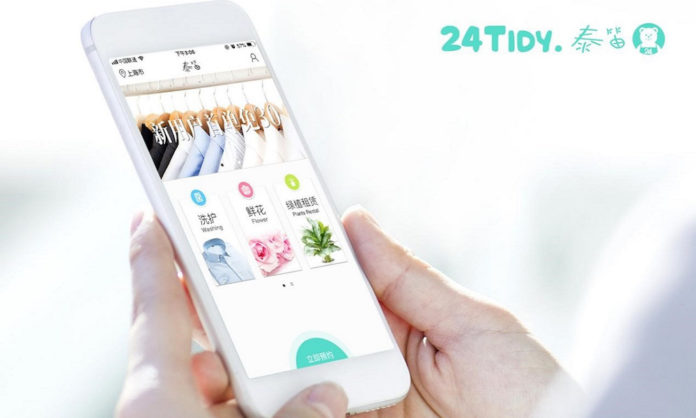 Shanghai-based online home services platform 24tidy.Com has raised about US$30 million in series C round of financing, said the company in a statement.
Investors in the round includes Xi'an Jiaotong University Education Foundation (XJTUEF) and a family fund set up by founders of Beijing-based medical instruments retailer Lepu Medical.
XJTUE is a non-profit organization, launched by Xi'an Jiaotong University in 2006 and approved by the Shaanxi Provincial Department of Education.
Established in 2012, the start-up operates an online platform for in-home services booking, mainly targeting the middle-class families in China. Their services include fresh flowers ordering, green plant renting and one-stop laundry service that covers from daily clothes, shoes, bags, to home furnitures and goods of luxury brands.
The company had kicked off green plant door delivery service in 2015, which enabled users to rent fresh green plant and purchase flowers in the app. The company delivers them at the customer's doorstep.
As for the flower sales, it offers customized flower bouquets, and a monthly subscription model that allows dispatching of flowers each week within a month.
24Tidy.Com has a self-developed logistics system which enables the company's team to pick up and pre-treat the flower in the farm in southwest China's Yunnan province, known for flowers and warm climate. The team deliver the package at the airport, transport to multiple Chinese cities' outlets and deliver to users. The whole process has to be finished within 24 hours to maintain flowers freshness.
The company is present in twelve cities in China, such as Shanghai, Beijing, Wuhan, Chengdu, Nanjing, Guangzhou, Shenzhen, Hangzhou and Suzhou.
The platform had raised RMB150 million in a series C round of financing, led by China Merchants Capital, a subsidiary of China Merchants Group, and CITI Securities in 2017.
The company counts Sequoia Capital, Singapore's United Overseas Bank, Singapore's International Council for Harmonisation (ICH), and Suzhou-based venture capital Oriza Holdings, among its backers from the previous rounds.
In 2017, the company had floated its shares in mainland China in the third board, which has less stringent listing requirements and caters to promising start-ups.