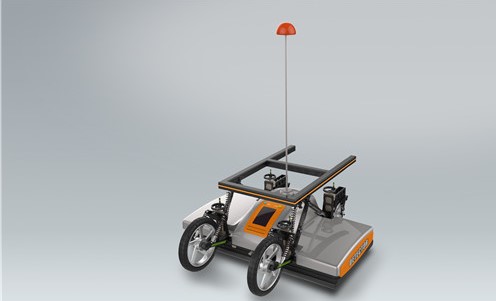 In a bid to extend the application of the artificial intelligence (AI) technology to the country's geological exploration field, China has unveiled its first AI powered ground-penetrating radar named "Eagle Eye-A" on November 27. 
Designed and produced by a research institute under China's state-owned high technology firm China Aerospace Science and Industry Corporation, the three-dimensional radar Eagle Eye-A has the capability to scan petrol and gas pipelines underground and detect potential perils such as road cave-ins in urban underground space.
By leveraging AI technology, Eagle Eye-A can conduct pipeline inspection activities at an accuracy rate of 90%, with a false alarm rate lower than 5%, according to Chinese state-owned news agency Xinhua, citing Jiao Xiaoliang, director of the institute's science and technology committee.
Equipped with the BeiDou navigation satellite and GPS systems, Eagle Eye-A can help collect high precision positioning of underground targets, lifting the efficiency of auto-detection and identification while requiring less manpower in data processing.
The AI module mounted in the radar enables the radar to proactively detect, spot and mark exceptional information and generate an immediate report to offer a panoramic view of the underground pipeline network.
The radar has the capability to provide urban underground space detection with a higher accuracy compared with the previous versions, said the report.
"The newly-developed radar is capable of detecting soil diseases and pipelines as deep as six meters underground, with a fast response and no harm to the environment," said Jiao.
The introduction of Eagle Eye-A is a result of China recording serious injuries, casualties and a great loss of properties caused by underground facilities-related accidents.
According to the country's official newspaper Beijing Daily, over 160 underground pipeline accidents and more than 60 road collapses happened in China from July to October 2018, which had led to the death of eight people  while injuring 14.