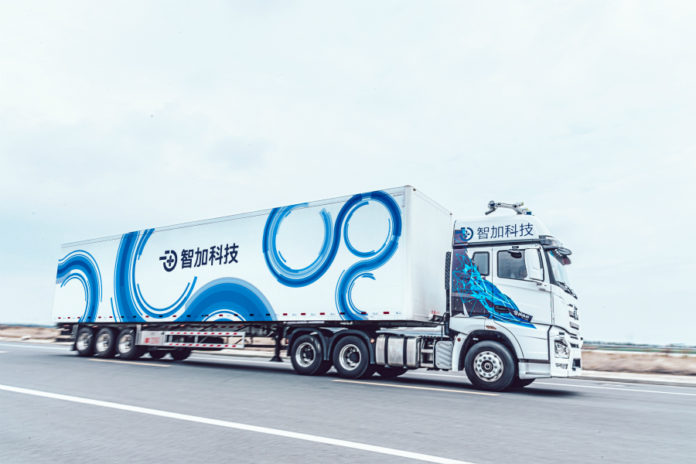 China's Jiangsu province has granted the first batch of road test licenses for intelligent large scale commercial vehicles, such as vans and buses.
Three Chinese companies, including Suzhou-based and Sequoia-backed unmanned truck maker PlusAI Corp, bus maker Higer Bus Company Limited, and Xiamen Golden Dragon Bus Co. has received the road test license from China's Intelligent Transportation Systems (ITS) Center, a research institute for the intelligent driving industry.
The ITS Center has been jointly established by the Highway Research Institute of the Ministry of Transport and the Municipal Government of Changzhou. Currently, the institute is constructing self-driving test bases, including closed test sites, semi-open test sites and open test sites, utilizing 5G network and intelligent recognition.
On the day the licenses were granted, a red van with the self-driving system was put to test on a 1.3 kilometer semi-open in Changzhou City. The van has been equipped with a square steering wheel and a computer with data refreshing on the screen at the driver's site.
The test vehicle was implemented with level 4 autonomous driving technology which still requires a driver for control and is only allowed to be tested within limited areas. The van, designated to carry 24 people, has loaded only 14 people for the test and is equipped with several sensing devices to achieve an overall radius around itself of 150 meters.
Founded in Silicon Valley in 2016, PlusAI Corp has also obtained California Autonomous Vehicle Testing License. The company has completed series A+ round of financing with undisclosed financial details, led by Sequoia Capital China in November this year. Prior to this, it also has netted Chinese truck-hailing firm Full Truck Alliance Group, GRS Ventures, Lightspeed China Partners and China Growth Capital as its backers.
Other vehicle manufacturers, including FAW Jiefang Automobile Co. and Dongfeng Commercial Vehicle Automobile Co. have applied for the second batch of road test licenses, according to a report by Chinese news agency Xinhua.