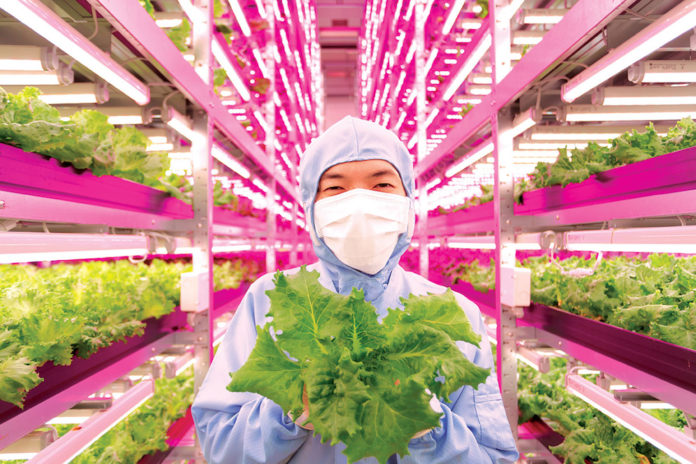 China's second largest e-commerce giant JD.com has launched a indoor hydroponic vegetable farm with technical support from Japanese firm Mitsubishi Chemical Holdings Corporation.
The indoor farm is designed to cater to China's middle class families which have seen an increasing demand for safety food.
"Environmental problems in China, such as soil problems, air pollution, have driven domestic consumers to pay more attention to food safety," said Wang Xiaosong, senior vice president of JD.com at the plant's opening ceremony yesterday.
JD.com forged a strategic partnership with Mitsubishi Chemical in 2017 for research and development of the indoor vegetable factory. JD also plans to expand with 10 more plants across China by urging agricultural companies to introduce Mitsubishi Chemical's plant factory system.
Located in the Tongzhou District in Beijing, the plant covers an area of ​​about 11,000 square meters with an investment amount of JPY400 million (US$3.55 million). JD.com claims that the plant has an annual production capacity of about 300 tons which would make it one of the biggest plant factories in China.
Farm produce is grown on the pesticide-free soil with sufficient artificial solar light and controlled temperature and humidity. Nutrient solution and water provided to the produce is purified with treatment equipment.
The plant is highly productive as vegetables can mature within 5 weeks. Then they will be "on the shelf" on JD's commerce portal, JD FRESH and at offline chain supermarket 7Fresh.
In addition to delivering on food safety, JD's plant factories are also environmentally friendly. The plant has low water consumption, recycling systems and low pollution emissions relative to traditional farming methods, said the company.
The indoor farm's approach saves around 90% on water compared to conventional planting by using a water purifying system. One vegetable plant can be grown with 500 ml of water, about the size of a drinking bottle of water, from seed stage to harvest.
JD.com targets to change the situation in the domestic agriculture sector which lacks standardization, sufficient scale, proper supply chain and high-end agricultural products, according to Wang.
Established in 2005 and based in Tokyo, Mitsubishi Chemical is a chemical products manufacturer, formed from the merging of Mitsubishi Chemical Corporation and Mitsubishi Pharma Corporation. In addition to agriculture and food, the company also develops technology for healthcare, materials, energy, IT, automotive and aircraft industries.
In November, JD.com also announced their plan to foray into pig farming with intelligent solutions like machine vision, AI-enabled analytics, robots and IoT technologies.