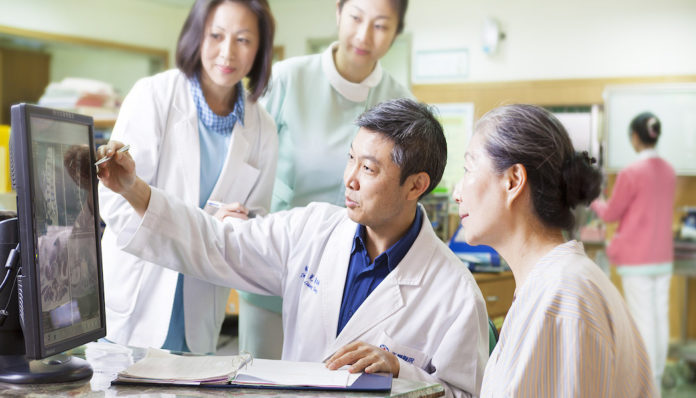 VoxelCloud, a Chinese AI-based medical imaging company, has secured US$50 million in a series B financing round, led by financial services institute Shenzhen Hongtai Capital Management Group.
The round also saw participation from Sequoia Capital, Qingsong Fund and Hanfor Capital Management, announced the company today at a launch conference of AI medical products in Shanghai.
Founded in Los Angeles in early 2016, VoxelCloud is a customized medical solutions developer which provides automated medical image analysis services and diagnosis assistance, powered by AI and cloud computing technologies.
Currently, VoxelCloud's products are utilized in diagnosis and analysis in three major diseases, including as lung cancer, retinal diseases, and coronary heart disease. The platform is designed to assist clinical practitioners in their decision-making process. Their technologies in these three areas are used at over 50 hospitals in China and abroad, said Ding Xiaowei, the founder and CEO of the company.
Ding Xiaowei, also as one of the core research members in the team, acquired a Bachelor's degree in Electrical Engineering from Shanghai Jiao Tong University and a Ph.D. in Computer Science from UCLA.
The company's chief scientific officer, Demetri Terzopoulos, is a Chancellor's Professor of Computer Science at UCLA, and also directs the UCLA Computer Graphics & Vision Laboratory. In November, Eric Topol, founder of the medical school Cleveland Clinic Lerner, will serve as the the primary medical adviser of the company.
VoxelCloud's CT Image Analysis product line has obtained FDA and CE approval for clinical use. The start-up also has set up offices in Suzhou and Shanghai, with a satellite R&D team in Phoenix.
VoxleCloud has raised US$28.5 million in total to date, coming from a RMB100 million (US$15 million) series A+ funding round in October 2017 from Chinese tech giant Tencent Holdings, Sequoia Capital and New Margin, a US$8 million series A round in May 2017, and a US$5.5 million angel round in 2016.
The company will use the proceeds to acquire market entrance registration for their medical imaging solutions and reach to more hospitals.