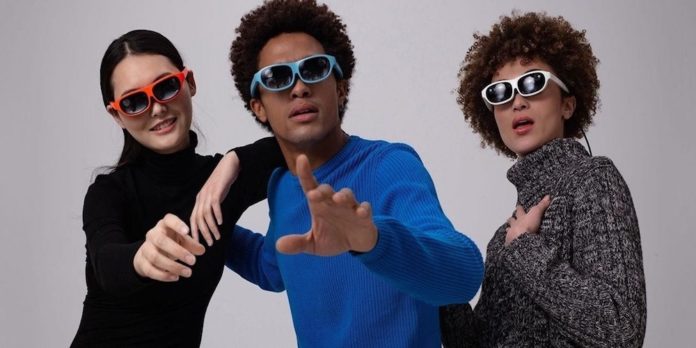 China's nreal announced on Monday at the 2019 Consumer Electronics Show in Las Vegas that it has secured a US$15 million series A round from Shunwei Capital, China Growth Capital, APlus, SIASUN Robot & Automation Co. and Baidu's online video branch iQiyi 
The company also unveiled its first-generation mixed reality smart glasses nreal Light at the tech trade show, which it plans to start shipping in Q2 or Q3 this year with a price of less than US$1,000.
nreal Light is designed to present high-definition, 1080p resolution graphics and 52-degree field of vision. Features include interchangeable prescription lenses, multiple colors choices for equipment, integrated spatial sound, voice control and wireless controller for haptic feedback.
"Not only can we provide a truly immersive experience, but we can also make it accessible by everyone, easily, and in a very comfortable fashion," said Chi Xu, founder and CEO of nreal.
Powered by the Simultaneous Localization and Mapping (SLAM) algorithm and Qualcomm's Snapdragon processor, the glasses are cross-platform compatible, and can be used with most USB-C devices including laptops and desktops.
Founded in January 2017, nreal is a mixed reality glasses developer and maker which targets shrinking augmented headsets to the size of sunglasses. The two-year-old start-up said nreal Light enables accurate and realistic interactions between digital avatars and the real world with only two onboard cameras.
Magic Leap and Microsoft, two major rivals of nreal from the U.S., have been contributing billions of dollars of investment to venture into the head-mounted virtual reality display market.
Through its corporate venture capital arm Shunwei Capital, Xiaomi Inc. has backed hundreds of manufacturers to gain control over industry supply chains. In turn, the companies in their portfolio gain access to Xiaomi's retail channels.
The investment initiative of Xioami is aligned with it aim to form an ecosystem of its own, covering smart hardware, consumer goods, education, games, social networking, culture and entertainment, medical health, automotive transportation and finance.
Established in 2000, SIASUN is a listed high-tech enterprise under the Chinese Academy of Science, focusing on robotic technology and intelligent products.