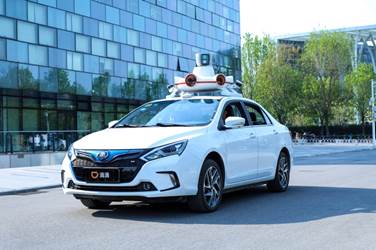 Didi Chuxing has launched an independent company for its autonomous driving unit to focus on research and development, product application, and business development related to autonomous driving technologies, the Chinese ride-hailing giant announced on Monday.
The new company will "integrate the resources and technological advantages of Didi's platform, continue to increase investment in research and development of core innovative technologies, and deepen collaboration with upstream and downstream auto industry partners," said Didi in a company statement.
The company also aims to "actively explore the promotion of self-driving technologies with transportation authorities and broader society," said Didi.
The move came after Didi set up an autonomous driving team in 2016. The team has grown into a comprehensive research and development division covering areas including high definition (HD) mapping, perception, behavior prediction, planning and control, infrastructure and simulation, labeling, problem diagnosis, vehicle modifications, connected car, and security, among others.
The autonomous driving unit is developing and testing autonomous driving vehicles in China and the United States, with over 200 staff in total. The company had been approved to test self-driving vehicles in California in 2018, according to a Financial Times report.
The growing need for personal mobility worldwide in the wake of rising urbanization and fall in car ownership is driving the demand for ride-sharing. A Research and Markets report released in January 2019 indicates that the ride-sharing market is estimated to be US$61.3 billion in 2018 and is projected to reach US$218.0 billion by 2025, at a compound annual growth rate (CAGR) of 19.87%.
"The new company looks forward to further strategic collaborations with automakers and industry partners to promote the application of self-driving technologies in people's everyday lives," said Didi CTO Zhang Bo in the company statement.
Zhang will head the new autonomous driving company as its CEO while retaining his current position. Zhang has led a series of big data and artificial intelligence (AI) upgrades at the ride-hailing firm since he left Baidu and joined Didi in 2012.
Zhang said that Didi will apply its experience and understanding of safe operations in the ride-hailing sector to autonomous driving operations. Meanwhile, the company will work with the transportation authorities and all related parties to explore the safety standards for autonomous driving operations.
Meng Xing, former executive director at Shunwei China Internet Fund, will become COO of the new company. Software engineers Jia Zhaoyin, the head of its technical efforts for Didi's smart-driving project, and Zheng Jianqiang will head its research and development teams in the United States and China.