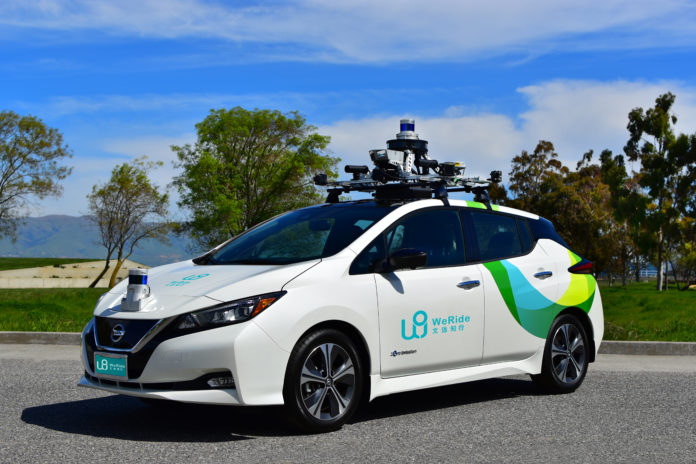 WeRide.ai, a Chinese self-driving start-up specialized in level 4 autonomous vehicles, has teamed up with the largest traditional taxi firm in southern China's Guangzhou city to launch a joint venture to deliver autonomous vehicles-based taxi services for customers.
The joint venture, namely "WeRide RoboTaxi," saw the joined forces among WeRide.ai, and an affiliate of state-owned public transport company Guangzhou Public Transport, as well as SCI Group, a government-backed conglomerate with RMB20 billion (US$2.83 billion) in total assets, said WeRide.ai in a statement obtained by China Money Network on Wednesday. The three parties aim to explore "a new trip mode" powered by level 4 autonomous vehicles to cash in the burgeoning demand for transportation.
"WeRide RoboTaxi will become a company dedicated to building the future mode of transportation, representing a crucial move taken by WeRide.ai in the commercialization of autonomous vehicles. We will cooperate with more friends in the transportation ecology to further explore the potential of autonomous driving," said WeRide.ai co-founder and CEO Tony Han Xu.
The partnership came after WeRide.ai joined efforts with Guangzhou-based public transport group Baiyun Company and automobile maker GAC Group to kick off the country's first fleet of driverless cabs in Guangzhou province in November 2018. These driverless cabs are equipped with level 4 autonomous driving technique that enables it to slow down, pull over or park themselves at a safe spot if a driver is not in control.
WeRide.ai, formerly known as Jingchi.ai, was founded in April 2017 to develop level 4 autonomous driving technologies. The company currently employs more than 200 people worldwide, 70% of whom are research and development engineers. Headquartered in Guangzhou, WeRide.ai also has research and development centers in Beijing, eastern China's Anqing city, and Silicon Valley.
The start-up claims to be the holder of the second-largest number of licenses for autonomous driving road test in China and over 80% such licenses in Guangzhou, according to its website. The firm secured 20 out of 24 licenses granted by the local government in Guangzhou in January 2019. Other four licenses went to its homegrown competitors including Pony.ai, AutoX, DeepBlue, and state-owned Guangzhou Automobile Group.
The autonomous driving unit of Baidu obtained over 50 licenses, which made it the holder of the largest number of licenses in China, taking up more than half of the 109 licenses issued by the government as of April 2019, according to Chinese automobile information platform AutoInfo.
In late October 2018, WeRide.ai closed a series A round led by Renault–Nissan–Mitsubishi Alliance (Alliance RNM ), a Franco-Japanese strategic partnership between the automobile manufacturers Paris-based Renault and other two Japanese carmakers, Nissan and Mitsubishi Motors. The start-up received additional investment in the series A round from a group of investors including Hong Kong-based artificial intelligence (AI) unicorn SenseTime in early January 2019.