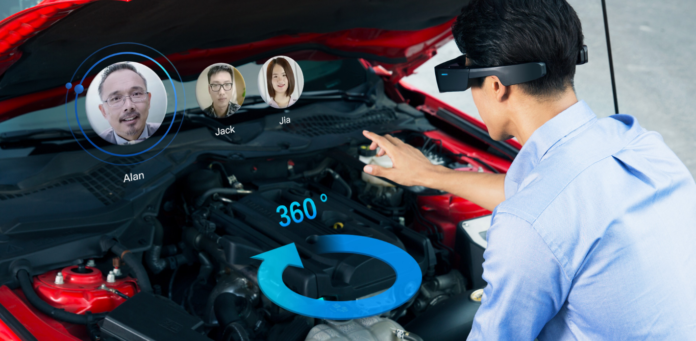 HiScene, a Chinese augmented reality (AR) start-up serving companies including Baidu, Tencent and Alibaba, announced on Wednesday the completion of a series C funding round worth RMB250 million (US$34.93 million).
The new round was led by Yangtze River Delta Collaborative Advantage Industry Fund, a fund launched in December 2018 by a group of companies including Chinese state-owned financial holding firm Shanghai International Group. The fund, which aimed to raise RMB100 billion (US$13.97 billion) in total, announced in late May that it garnered RMB7.7 billion (US$1.07 billion) in the first fundraising phase.
Shanghai-based investment company Panxi Capital also poured money into the new round, said HiScene in a prepared statement.
HiScene, formally known as HiScene Information Technology, was founded in November 2012 in eastern China's coastal city of Shanghai. The company said in the statement that it currently focuses on the development and deployment of AR in the fields of smart manufacturing and public security.
In the field of smart manufacturing, HiScene said that it already joined hands with Chinese appliance manufacturer Gree Electric, consumer electronics and home appliances firm Haier Group, and Phoenix Contact, a German provider of industrial automation, interconnection, and interface solutions. Regarding AR application in the public security area, the company disclosed its cooperations with the local police in southwestern China's Yunnan province and southern China's Guangzhou city in building "a three-dimensional crime prevention and control system."
Other products developed by HiScene include a technology infrastructure platform "HiAR," and AR device "HiAR Glasses," which has a string of cameras and sensors that can track a user's movement and create three-dimensional models of spaces. It also introduced "HiLeia," a product that offers both real-time communication and improved collaboration for AR glasses.
The new investment is expected to help the AR products and technologies provider reload ammunition to target the burgeoning AR market in China and worldwide. AR, including mobile AR and smartglasses, is forecasted to reach 2.5 billion installed base and US$70 billion to US$75 billion revenue around the world by 2023, according to a Digi-Capital report in January.
China's spending on AR and virtual reality (VR), in particular, is expected to reach US$65.21 billion by 2023, representing a five-year (between 2018 and 2023) compound annual growth rate (CAGR) of 84.6%, a IDC report indicated.
Along with the completion of the series C round, HiScene also introduced a new product platform, "HiAR Workshop," to help clients build AR-enabled working environment. The company plans to accelerate the commercialization of the new product using the fresh funds.
Previously, HiScene closed RMB120 million (US$17.71 million) in a series B+ round in May, which took the total capital raised in its series B round to RMB220 million (US$32.47 million). A wide range of investors including Chinese selfie app developer Meitu Inc. and V Star Capital, an RMB-denominated fund spin-off from California-based GGV Capital, participated in the series B round.