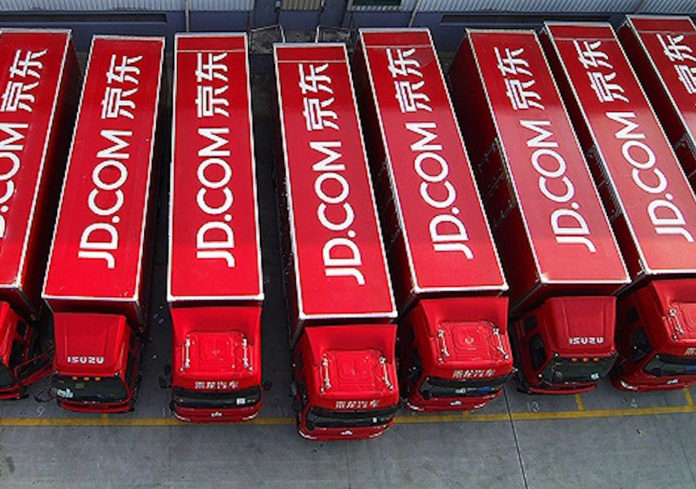 JD Health seeks to raise US$3 billion in HK IPO
JD Health seeks to obtain listing approval on the Hong Kong Stock Exchange as early as next week, with a target valuation of US$20 billion. According to rumors, JD Health plans to raise at least US$3 billion in this IPO.
In June this year, JD.com went public for the second time in Hong Kong, raising US$4.5 billion. According to the prospectus, JD applied to the Hong Kong Stock Exchange for an exemption from the spin-off of a subsidiary to be listed in Hong Kong within the next three years.
Soon afterwards, JD Health was revealed to be planning to go public in Hong Kong. At that time, it was rumored that the fundraising amount was about US$2 billion, and the corresponding valuation target was US$30 billion. In September, JD Health formally submitted a prospectus to the Hong Kong Stock Exchange regarding listing matters.
The prospectus shows that JD Group indirectly holds approximately 81% of JD Health, and Hillhouse Capital, the second largest shareholder, holds approximately 4.5%.
Former OPPO executive joins NIO to lead chip project
Former OPPO hardware director and general manager of Xiaomi's chip and research department Bai Jian has joined NIO as the vice president of hardware, reporting to CEO Li Bin.
According to previous reports, NIO is planning to independently develop autonomous driving computing chips. The project has yet to be discussed by the board of directors, but Li Bin has communicated with executives and shareholders, and his intention on this is clear.
NIO has established an independent hardware team "Smart HW (Hardware)". A few months ago, Li Bin started looking for relevant technical leaders to put together a self-developed chip team.
Tesla started among EV companies to develop its own chips. Tesla's mass-produced models were officially equipped with self-developed chips in 2019. Before that, Tesla used chips from companies such as NVIDIA. It is obvious that NIO will follow the path of Tesla.

ByteDance extends gaming offerings
After launching new game brands "NUVERSE" and "PIXMAIN" in June this year, ByteDance just launched its first new platform "Eggroll Game" based on casual games and niche games, and cooperated with game manufacturers to provide game publishing and test platform.
According to reports published on ChinaJoy this year, Bytedance had 11 products that made the list of the strongest growth in gaming during the first half of this year to overpower traditional game industry giants Tencent and NetEase in the "strongest growth" category.
Tencent President says companies must stay within regulatory framework
Tencent President Liu Chiping gave a live speech at the Hong Kong Fintech Week, saying that the development of fintech has huge opportunities. Technology can benefit the entire financial industry. He criticized that many players pursue pure scale rather than quality.
Liu Chiping believes that the entire industry needs to manage the financial risks that accompany innovation to avoid disrupting the financial order. Respect for risk management is the foundation of financial services. "If you are a trustworthy operator and communicate with regulators, and your innovation actually complies with financial regulatory principles and is beneficial to society, then regulators will actually be open to encouraging innovation."
Earlier, Ant Group's expected record setting IPO was halted three days before its planned listing date, due to regulator's new rules making it necessary to reorganized in order to proceed with the listing.
Tmall 11.11 shopping festival sees explosive export orders
Affected by the epidemic, a large number of overseas consumers took advantage of the Tmall 11.11 shopping festival to snap up discounted goods. According to AliExpress data, the number of orders issued by its domestic stocking warehouse was turbulent last year, increasing by hundreds of times.
In addition, in order to deal with the massive parcels from China, the customs of nearly 30 countries around the world have specially formulated safeguard plans. Among them, 12 ports of customs in 10 countries including Brazil, Saudi Arabia, the United Arab Emirates, Turkey, France, Belgium, Spain, and Russia have began overtime mode to ensure customs clearance procedures were fully prepared.
Lei Jun: Xiaomi will recruit 5,000 engineers in 2021
At the 4th Xiaomi Developer Conference, Lei Jun said that in 2021, Xiaomi will recruit 5,000 engineers, an increase of 50% on the basis of the existing engineer team, and further increase R&D investment.
According to Lei Jun, Xiaomi's current R&D team has more than 10,000 people. The 10 key areas recruited by Xiaomi engineers are: camera imaging technology, screen display technology, fast charging/wireless charging technology, IoT platform and connection technology, AI and voice intelligent interaction technology, 5G/6G communication standard technology, big data and cloud service technology, intelligent manufacturing equipment and system integration technology.
Tesla seeks expansion in Thailand
Tesla is currently communicating with the Thai government to obtain more information about the country's investment promotion policies and industry profiles.
The Investment Commission of Thailand is expected to formulate recommendations for the renewal of the second round of electric vehicle investment plans in early November 2020. The plan will provide enterprises with an 8-year tax deduction for the promotion of electric vehicles. The director of the Office of Industrial Economics in Thailand stated that government officials in the country are currently preparing to hold a conference call with Tesla.
Huawei's AI open platform trademark was preemptively registered by partner
According to news on November 5, the Beijing Intellectual Property Court recently issued a judgment showing that because the mobile computing architecture HiAI on Huawei's core chip was preemptively registered by its partners. Huawei sued the party after applying for trademark invalidation and did not achieve the expected result.
HiAI is Huawei's AI capability open platform for smart terminals. As a mobile computing architecture that was once designed on the Kirin 970 chip, the system has been upgraded to HiAI 3.0 to support multiple terminals to share AI computing power. According to information from China Trademark Network, HiAI, as the ninth category of commodity trademarks, is currently still in the hands of HiScene (Shanghai) Information Technology Co., Ltd., an AR and AI company.