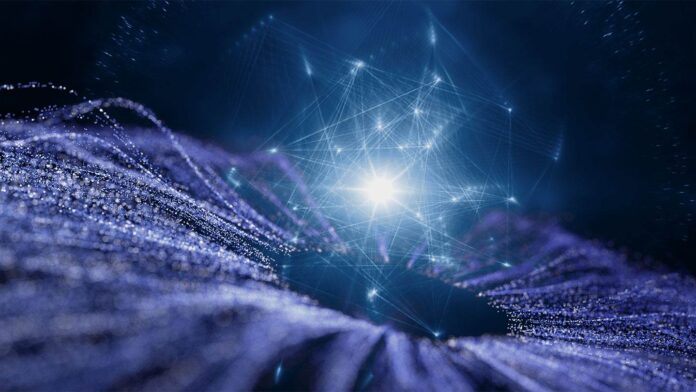 Alibaba's Cloud ME technology helps Beijing Winter Olympics bridge distance
In order to connect the participants of 2022 Beijing Winter Olympics across distances, Alibaba has launched the innovative "Cloud ME" technology. Based on its Real-Time Communication solution, "Cloud ME" has overcome travel restrictions and geographical barriers under the Covid-19 epidemic, bringing users a realistic meeting experience, with life-size holographic projections that support real-time conversations and interactions.
Alibaba's "Cloud ME" holographic capsule can be used inside and outside the Beijing Winter Olympics' infinite loop management system, allowing participants and supporters of the event to experience interesting interactions in mixed reality. The Beijing Winter Olympics' first "Cloud ME" event was a remote meeting on February 6 between Alibaba Group's chairman and CEO Daniel Zhang and Thomas Bach, president of the International Olympic Committee (IOC). They were unable to meet in person in China due to the epidemic restrictions.
AutoX expands robotaxi fleet to 1,000 vehicles, surpassing Waymo
Chinese autonomous driving technology company AutoX announced today that its robotaxi fleet has surpassed 1,000 vehicles. Previously, the largest robotaxi fleet came from Waymo, an autonomous car subsidiary of Google's parent company, with a fleet size of about 800 vehicles. At present, the number of AutoX's fleet has surpassed that of Waymo, and they are distributed in China's first-tier cities including Beijing, Shanghai, Guangzhou and Shenzhen.
As of February 2022, the autonomous driving area of ​​AutoX's robotaxi has exceeded 1,000 square kilometers in total, making it the largest autonomous driving area in the world. Meanwhile, AutoX has established ten operation centers around the world. In Shenzhen alone, AutoX has four operation centers.
Tencent launches the first global standard for blockchain digital collections
The global standard project of "Technical Framework for Digital Collection Services Based on Blockchain" was successfully approved. The project was led by Tencent and jointly proposed by Ant Group, CAICT, Beijing University of Posts and Telecommunications, Zhijiang Laboratory and other institutions, and was approved at the plenary meeting of the ITU Study Group 16, which is also the first international standard project for the application of blockchain technology in the field of digital collections.
Oriental Fortune Capital leads series B round in Linx Robot
Linx Robot is a Hangzhou-based industrial robot developer, focusing on warehousing logistics, industrial manufacturing and other fields, relying on 3D machine vision and robot intelligent planning technology to provide unmanned solutions for customers in various industries. Recently, the company has completed a series B round of financing of nearly RMB100 million, led by Oriental Fortune Capital. Proceeds will be used for next-generation product development, technology iteration, brand marketing and talent recruitment.
GongmoSemi raises tens of millions of RMB in Pre-A round
GongmoSemi recently announced the completion of a Pre-A round financing worth tens of millions of RMB, led by Suzhou Industrial Park Leader Venture Capital and Oriza Holdings. Summitview Capital and DB Investment also participated. Proceeds of the round will be used to accelerate product development, team expansion, and increase marketing efforts, aiming to become the top supplier of high-performance analog chips in China.
(China Money Network's articles are curated and translated from credible Chinese media organizations with established brands, experienced editorial teams, and trustworthy journalism practices. However, we are not responsible for the accuracy of the information. For any questions, please reach out to our editorial department.)