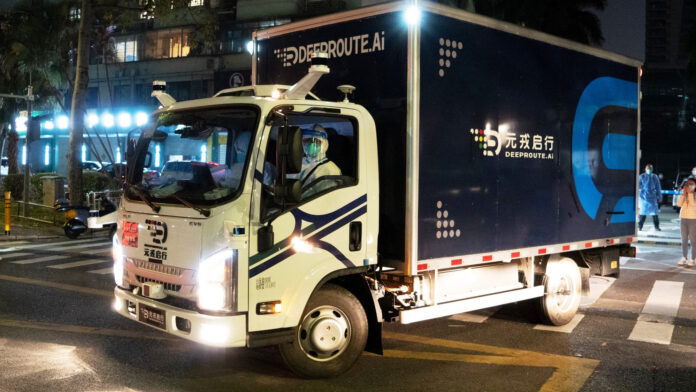 DeepRoute's autonomous trucks help deliver anti-epidemic supplies
Two autonomous light trucks developed by DeepRoute, a Chinese L4 full stack self-driving solution provider, have been used to deliver anti-epidemic supplies in the designated control areas for COVID-19 in Shatou Subdistrict, Futian District. A single self-driving light truck transported more than 500 boxes of materials, including nearly 3,000 pieces of protective clothing and nearly 10,000 bottles of alcohol, 10,000 face shields, over 30,000 medical gloves, over 80,000 masks, and more than 10,000 other anti-epidemic supplies.
SIASUN intelligent welding robot system applied to dam construction
The intelligent welding robot system developed by SIASUN has recently delivered and successfully applied to China Gezhouba Group Mechanical & Electrical Construction Co., Ltd. The robot workstation includes ten working modules such as intelligent welding robot, 3D scanning system, intelligent planning system, positioning system, welding seam tracking system, dust removal system, etc. It can weld workpieces of various shapes within the planned size, and the welding process is fully intelligent and flexible.
BYD selects Baidu as its intelligent driving solution provider
Chinese EV maker BYD has chosen Baidu as its intelligent driving intelligent, according to sources. Baidu provides BYD with its intelligent driving solution ANP(Apollo Navigation Pilot) and human-vehicle co-driving maps. Baidu's intelligent driving team has entered the field ahead of schedule to cooperate with BYD for development, and will soon realize mass production of cooperative models.
Shanghai launches open source machine vision platform OpenGVLab
Shanghai AI Lab and SenseTime have jointly launched OpenGVLab, a general machine vision platform, open to academia and industry with its ultra-efficient pre-training model, ultra-large-scale public dataset, and the industry's first evaluation benchmark for general vision models. This move will provide support for global developers to improve the training of various downstream visual task models, promote the large-scale application of AI technology, and promote the rapid development of basic AI research and ecological construction.
Sequoia Capital, Legend Capital co-led a US$188 million round in Inceptio
Inceptio, a Chinese autonomous trucking technology company, announced that it has completed a US$188 million series B+ round financing, which was co-led by Sequoia Capital China and Legend Capital. Chow Tai Fook Enterprises Co., Ltd., Cedarlake Capital, an international equity fund, WZ Group, and existing investors Meituan, NIO Capital, Eight Roads, Broad Vision Funds also participated. Previously, Inceptio has raised a total of US$500 million.
GAC Capital invests in autonomous driving chip firm EVAS
EVAS, a Chinese autonomous driving chip development company, has raised nearly RMB200 million in angel round, which is jointly participated by GAC Capital and many well-known investors such as CTC Capital, Sunic Capital, and Volcanics Venture. After the financing is completed, EVAS will set up R&D centers in Guangzhou, Shanghai, Beijing, Chengdu, Nanjing and Tokyo, Japan.
(China Money Network's articles are curated and translated from credible Chinese media organizations with established brands, experienced editorial teams, and trustworthy journalism practices. However, we are not responsible for the accuracy of the information. For any questions, please reach out to our editorial department.)