China Money Network, the leading source of intelligence and data on China's venture capital and technology sector, announces groundbreaking research on China's artificial intelligence industry in its unveiling of the new ranking: China AI Top 50.
China Money Network unveiled the much anticipated ranking during a press conference at the Annual Meeting of the New Champions held by the World Economic Forum in Tianjin, China on September 19, 2018.
The ranking of 50 most successful Chinese AI companies with the greatest potential for future success offers unique company-level insights into China's thriving artificial intelligence space.
In addition to the Top 50, the report provides a Top 10 and Top 20 ranking for the industry's superstars.
Some outstanding facts from the ranking include the following:
A total of 14 Chinese AI companies are unicorns, or private start-up companies valued at US$1 billion or more. The 14 unicorns, all included in the China AI Top 50 ranking, are worth a combined US$40.5 billion
Only two of the 50 companies had female founders.
27 of the 50 companies are backed by Chinese government related funds and/or the BAT. BAT refers to Chinese technology giants Baidu, Alibaba and Tencent.
55.6% of the founders have doctoral or post-doctoral degrees. Over 73% have at least a master's degree.
China AI Top 50 companies are more mature than their peers. Around 80% of the 50 companies have completed series B or later investment rounds. The industry as a whole sees 81% of the companies having just completed series A rounds.
The most active investors in the China AI Top 50 include Sequoia Capital China; Alibaba and its related entities and funds; Zhen Fund; Sinovation Ventures; and Tencent.
Read Full Report: China AI Top 50
Read Full Report (中文版): China AI Top 50
The China AI Top 50 ranking is produced after months of thorough investigations with the China Money Network team analyzing over 1,000 Chinese AI companies and interviewing a plethora of industry participants. The team also communicated with many of the world's top experts, and visited dozens of companies and reviewed tomes of existing research and data.
Who are the China AI Top 50?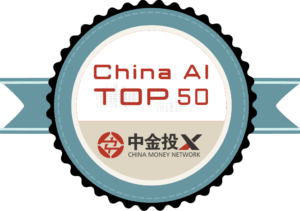 Aibee
Allcure Medical
AISpeech
Appier
Cambricon
Cloudminds
Cloudwalk
CowaRobot
DeepGlint
Deepwise
DJI
Dorabot
EHang
Fourth Paradigm
Geek+
HiScene
Horizon Robotics
Huiyihuiying
iCarbonX
IceKredit
Infervision
Knowbox
LinkDoc
Malong Technologies
Megvii Technology
Mininglamp
Mobvio
Momenta
Moviebook
Noitom
Orbbec
Pachira
Pony.ai
Quotient Kinematics Machine
Roadstar.ai
Rokid
Roobo
SenseTime
SensingTech
Slamtec
Terminus
ThinkForce
Tongdun
Turing Robot
Tusimple
Tuya Smart
Ubtech Robotics
Unisound
Xiaoi Robot
Yitu Technology
The China AI Top 50 ranking is produced with a weighted evaluation system and based on proprietary data China Money Network collected for this purpose. We analyzed over 1,000 Chinese artificial intelligence companies, and produced company scores using a weighted evaluation system. The elements under consideration include 12 items across five areas: tech capability; maturity of products; fundraising; business fundamentals; and future potential.
The ranking also includes detailed analysis of the Chinese AI industry as a whole, and a total of 50 pages of individual company profiles. The profiles provide a snapshot of each company's history, background and future plans.
Read and download the full report to view details of all China AI Top 50. Also find the special listing of China AI Top 10 and China AI Top 20 companies for China.
Read Full Report: China AI Top 50
Read Full Report (中文版): China AI Top 50
This video shows how China Money Network produced the China AI Top 50 ranking: