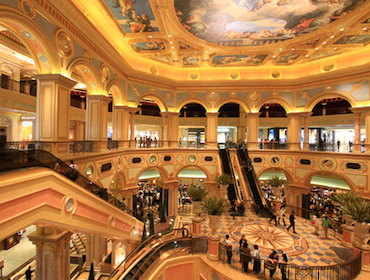 Chinese President Xi Jinping will bring a "gift basket" during his planned visit to Macau next month, which may be the beginning of a series of policy support initiatives that Beijing is likely to offer to the gaming center suffering from declining gaming revenues, says a research report by Nomura Holdings.
The Lotus Bridge check point, one of the three immigration check points between Macau and China, will begin operating 24 hours a day and seven days a week starting from December 18.
The new policy comes shortly before President Xi's planned trip to Macau, and is the first policy response from Beijing amid Macau's gaming revenue slowdown, sending encouraging signals that Beijing is still supportive of Macau.
China's anti-corruption campaign, which is believed to play a part in Macau's gaming revenue slump, is against gambling with corrupt money only, not against gambling in general.
Macau's total gross gaming revenue dropped 3.7% in June this year to 27 billion patacas (US$3.4 billion), the first decline in five years, due to softness in the VIP table segment.
Fitch Ratings estimates that Macau's gaming revenue could see 15% to 20% year-on-year decline during the first half and about 5% decline in the second half in 2015.
Nomura says the traffic at the Lotus Bridge check point is relatively light and the new policy will not lift visitation significantly in the near-term, because it is located further from other transportation hubs. In addition, the border crossing process is cumbersome, which will take a couple of years to improve.
More favorable policies from Beijing will likely be announced in the future to sustain Macau's future gaming revenue growth, including more frequent visitation and expansion of the individual visitation scheme for mainland visitors.