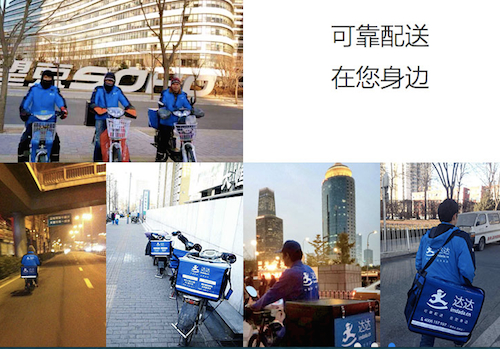 Chinese e-commerce firm JD.com Inc has agreed to merge its O2O (online-to-offline) unit with Dada Nexus Ltd., a Shanghai-based Uber-like mobile app that focuses on providing last mile logistics services, to form a new company to compete with competitors including 58 Daojia, the O2O local services firm launched by 58.com Inc.
JD.com will pay US$200 million in cash and inject JD Daojia assets into Dada, as well as provide other resources for the new company's future development in exchange for a 47.4% stake in Dada, according to a company announcement.
Philip Kuai, chief executive officer of Dada, and Zhijun Wang, President of JD Daojia, will serve as CEO and president of the new company, respectively.
"This merger is a win-win cooperation and an important step forward in building a sustainable O2O ecosystem," says Richard Liu, CEO of JD.com, in a statement.
In January 2016, Dada completed a US$300 million series D round of financing from DST Global, Sequoia Capital and other unnamed investors.
Launched in 2014, Dada operates through Imdada.cn and is valued at over US$1 billion after the completion of the round three months ago.
The start-up previously received several million U.S. dollar series A round from Sequoia Capital and tens of millions U.S. dollar series B round from undisclosed investors in 2014.
In June 2015, it received an undisclosed series C round led by DST Global, with participation from Sequoia Capital and Greenwoods Investment Management.
Dada has 1.3 million crowd-sourced delivery personnel who have registered on the platform using their real names, and operates in 37 cities providing average daily deliveries of over one million in peak seasons for 300,000 merchants.
Launched in April 2015, JD Daojia provides consumers two-hour delivery of products from local supermarkets and other partners through its location-based app.