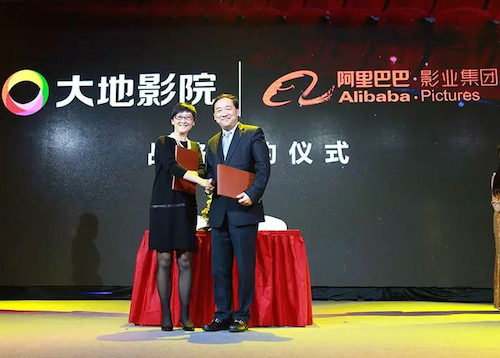 Alibaba Pictures made its first foray into China's booming cinema industry by subscribing to a RMB1 billion (US$153 million) convertible bonds issued by Guangdong Dadi Cinema Construction, says a company announcement.
If fully converted, the film and entertainment arm of Alibaba Group Holdings Ltd. will own 4.76% of Dadi Cinema, the second largest cinema firm in China with 313 cinemas in operation and 330 new ones in its pipeline.
"Cinemas will play an integral part in Alibaba Pictures' operations as the company aims to build an integrated entertainment platform for the film industry," Alibaba Pictures chief executive Zhang Qiang said in a statement.
Mainland China's total box office reached a record US$6.78 billion last year, up 48.7% from 2014, according to Chinese official numbers.
Dadi Cinema, a subsidiary of Hong Kong-listed investment holding firm Nan Hai, recorded total cinema attendance of 71.58 million people last year.
Alibaba Pictures and Dadi Cinme said they would cooperate on film distribution, movie marketing, joint membership management and big data mining.
Alibaba Pictures was established in August 2014 after Alibaba paid US$804 million in March that year to take over a 60% controlling interest in China Vision Media Group.