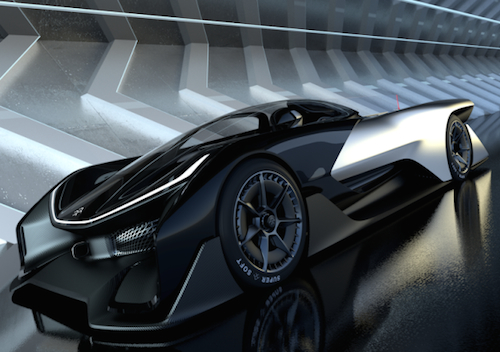 Even though Apple Inc. still shies away from publicly acknowledging its ambitions to build a car, Chinese Internet giants are all-in on the hottest sector of the future: smart vehicles.
Baidu Inc. established a self-driving business unit in December 2015. The Chinese search engine firm has set a goal of reaching commercial application of its technologies in three years and realizing mass production in five years.
Alibaba Group Holding Ltd. has partnered with state-owned SAIC Motor to reveal a plug-in hybrid electric vehicle in Beijing two weeks ago, and plans to retail the model in the second half of the year.
Tencent Holdings Ltd. established a joint venture company with new energy vehicle firm China Harmony Auto Holding Ltd.
The JV, named Future Mobility Corporation Ltd., was registered in Hong Kong last month with its research headquarters in Shenhen, as well as development teams in Europe and Silicon Valley.
Another Chinese Internet company, LeEco, formerly LeTV, is perhaps the most high profile Chinese companies on the global stage pursuing opportunities in smart vehicles.
The former online video company has announced plans to invest US$1 billion to build a car factory in the U.S. to produce futuristic smart vehicle Farady Future.
It has also established a partnership with luxury sports car brand Aston Martin to jointly produce an electric vehicle, on top of its plans to make its own branded electric vehicle LeSEE.
Smaller start-ups are entering the space as well. A young company established by the founder of New York-listed Autohome Inc. Li Xiang just raised US$121 million earlier this month to develop and build a smart electric vehicle for the Chinese market.
All of these frenzy let an auto executive to joke: Without a car division, you can hardly qualify yourself as an Internet company in China now.
Traditional Car Makers Vs. New Comers
Chinese traditional car makers probably have little chance to surpass global leaders in the foreseeable future.
But new energy cars with the combination of Internet+ and smart technologies could potentially let Chinese automakers secure a footing among global peers, according to comments made by a senior government official reported by Chinese media.
Last summer, authorities in China announced new rules to lower entry barriers for new electric vehicle companies, leading many Internet companies to jump on the bandwagon.
Compared to the new comers' enthusiasm to disrupt an over-100-years-old industry, veteran auto industry executives seem to maintain their cool.
The number of projects with the concept of Internet + cars in China probably outnumber the the rest of the world combined, an anonymous source told Chinese media.
The automobile sector is capital intensive, has very long cycles with high technological entry barriers.
Despite the speed and number of these smart vehicle projects, no self-driving smart vehicles will likely reach the end consumer before 2018 in China.
"It is perhaps not that difficult to produce a good car, but its extremely difficult to maintain consistent mass production of a series of innovative products," another unnamed source told Chinese media.
Will Chinese Internet companies redraw the competitive landscape of the Chinese auto industry, or will they merely help push the industry in China into the Internet age?
It will certainly be interesting to watch how the question is answered.