Chinese authorities are planning to tighten the regulations on banks' Wealth Management Products (WMP) investment, which could benefit the bond market, says a research report by ANZ AG.
Investments in "non-standard assets" and equities will be further tightened, as the China Banking Regulatory Commission (CBRC) plans to classify banks into two groups. The banks in the lower-rated group will not be allowed to invest their WMP into these assets.
In addition, CBRC may impose a cap on WMP's investment in equities. Currently, the cap for "non-standard assets" is either 4% of the bank's net asset or 35% of the total WMP under management, whichever is lower.
The issuance of "multi-tier WMP" may be forbidden. The term refers to WMP which consist of various trenches with different risks and expected yields. Within the structure, the risky tier takes higher yields in the price of absorbing the loss first, which is similar to collateralized debt obligation (CDO).
The move is driven by regulator's concerns about the potential risks contagion related to the WMP, which is commonly used by Chinese savers as another form of bank deposit.
Over the past years, China's WMP has been growing rapidly from RMB1.7 trillion in 2009 to RMB23.5 trillion at the end of 2015, when its volume was equivalent to 17% of M2.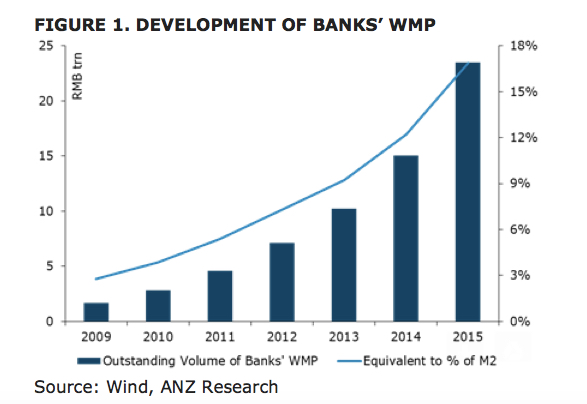 To chase higher returns, banks have allocated a considerable share of WMP into higher risk assets. At the end of 2015, the non-standard assets and equities took over 23% of the outstanding WMP in combination.
Though the investors are the final risk takers of the WMP, it is viewed as risk-free investments, with the belief that banks will be bailed out in risky cases to avoid reputation risk.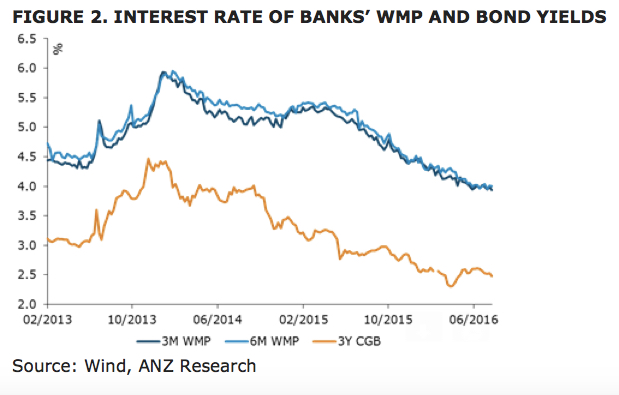 The strengthened regulations should lead to re-allocation of the portfolio of banks' WMP. The shares of non-standard assets and equities should be reduced and WMP managers should increase their positions in the bond market.
Assuming 8% of the WMP are re-allocated into the bond market, it should form RMB1.88 trillion of incremental bond demand within the next two or three quarters. This is only equivalent to 19% of the net issuance of bond in the first half of 2016.
It should also reduce banks' funding cost in the medium term, as the WMP's expected return will drop. As households view the WMP as a substitute of bank deposits with higher return, the lower expected return of WMP should leave room for the reduction of bank funding cost.